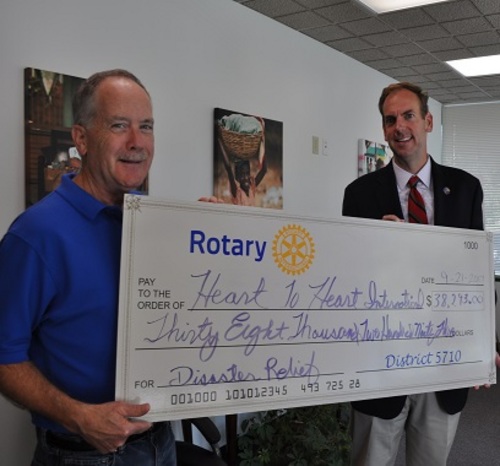 10/03/2017 1:51 PM
-
September 29, 2017
KANSAS CITY, Kan. - The Kansas City T-Bones and the 45 Rotary clubs of Rotary International's District 5710 have come together to support Heart to Heart International's disaster relief efforts in Texas and Florida.
Immediately after Hurricane Harvey devastated the gulf coast of Texas and Hurricane Irma left Florida battered the Rotarians opened their hearts and checkbooks to help aid in the recovery and the T-Bones opened their ball park gates.
During the final T-Bones home series of the 2017 season the Rotarians and other volunteers collected donations at CommunityAmerica Ballpark. Baseball fans including comedian Bill Murray, who is a part owner of the St. Paul Saints the club the T-Bones were hosting, contributed to the fundraising effort with a donation. In total, the Rotarians raised over $38,293 for the relief efforts through their work in North East Kansas.
The fundraising partnership was a great confluence of eastern Kansas organizations and people. Heart to Heart International is based in nearby Lenexa, and was founded 25 years ago by Rotarians. That Rotary connection was more strongly secured in this effort at the direction of T-Bones president Adam Ehlert, who serves as Rotary District 5710's Governor.
2018 Season tickets are available online or by calling (913) 328-5618 or visiting in person the Providence Medical Center Box Office. For additional information or interview requests, members of the media may contact the T-Bones Media Relations Department at (817) 739-3693.
-- T-Bones--