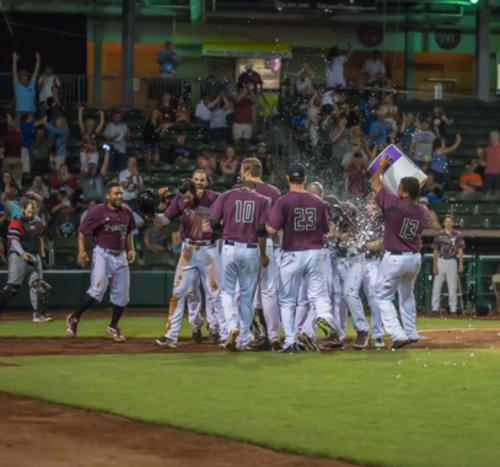 10/04/2017 2:20 PM
-
KANSAS CITY, Kan. – The Kansas City T-Bones announced that the club has exercised the 2018 option on the following 22 players:
RHP Alex Blackford
INF Jordan Edgerton
INF Paul Hendrix
OF Cedric Hunter
INF Kevin Keyes
OF Dexter Kjerstad
OF Marcus Lemon
RHP Jackson Lowery
OF Chantz Mack
LHP Rich Mascheri
RHP Jared Mortensen
RHP Luis Paula
C Tucker Pennell
RHP Gabe Perez
INF Kyle Petty
C Leonardo Rojas
RHP Matt Sergey
RHP Grant Sides
RHP Myles Smith
INF Niko Vazquez
RHP Jeff Walters
RHP Cody Winiarski
"Exercising the option" means that the players still need to be signed to contracts for the 2018 season, but Kansas City retains their rights for the season. The T-Bones just completed their second-best season in franchise history going 57-43 in 2017, under first year Manager Joe Calfapietra.
In a separate transaction the club acquired RHP Grant Sides from York in the Atlantic League, to complete an earlier trade between the two clubs.
2018 Season tickets are available online or by calling (913) 328-5618 or visiting in person the Providence Medical Center Box Office. For additional information or interview requests, members of the media may contact the T-Bones Media Relations Department at (817) 739-3693.