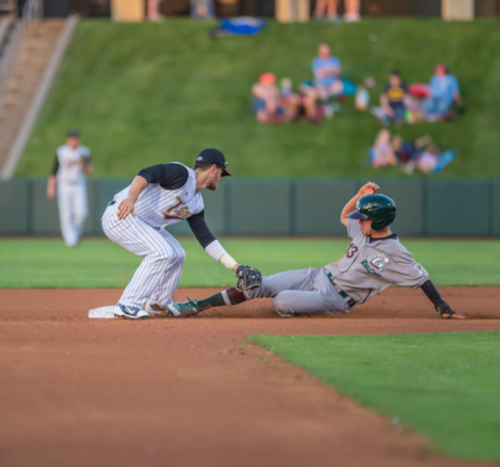 05/22/2018 10:05 PM
-
KANSAS CITY, Kan. –In front of 5,029 fans, University of Kansas basketball standout Frank Mason threw the ceremonial first pitch as the Kansas City T-Bones fell to the Gary SouthShore RailCats in their home opener, 6 – 2.
Tommy Collier (0-1) struggled for Kansas City, allowing three early runs in the top of the first inning. The RailCats' Alex Crosby led off the game with well struck ball to center field. Randy Santiensteban reached first base after a 6-4 fielder's choice. A Mitch Glaser walk put runners on first and second base, then a three-run home run for Garret Copeland to put SouthShore ahead 3-0 in the first.
Collier hit the RailCats' Glaser to start the third inning. After two quick outs, Glaser scored from first on an RBI double from Wilfredo Gimenez. The RailCats took a 4-1 lead heading to the home half of the third.
In the fifth inning, Collier's night would end, after giving up two more runs. Santiensteban lead the inning with a walk. Glaser advanced the runner by hitting an infield single to the shortstop. Copeland continued the hitting frenzy for the RailCats by hitting a hard-hit ball to center field that allowed Santiensteban to score and moved Glaser to second base. Reggie Wilson hit a RBI bloop single to center field that scored Glaser to expand the RailCat lead to 6-2.
The T-Bones scored their first run in the sixth inning on a sacrifice fly by Zach Walters, scoring Keith Curcio who doubled to lead off the inning, cutting the RailCats lead to 6-1. Kansas City scored another late run in the seventh thanks to a Dylan Tice RBI single that scored Jordan Edgerton. The late rally wasn't enough, as the T-Bones fell to the RailCats, 6-2.
The T-Bones (1-3) will continue their series with the Gary SouthShore RailCats tomorrow night in Kansas City at 7:05 p.m. in T-Bones Ballpark.
Season, group, mini-plans and nightly party suites are on sale now and can be purchased by visiting the Box Office at T-Bones Stadium. Call the Box Office at 913-328-5618 or purchase and print at www.tbonesbaseball.com. Box office hours are 10:00 am to 4:00 pm Monday – Friday and10:00 am to 2:00 pm Saturday. For additional information or interview requests, members of the media may contact the T-Bones Media Relations Department at (817) 739-3693. Stay tuned to www.tbonesbaseball.com. and the T-Bones Facebook and Twitter pages for updates throughout the offseason.
--T-Bones--