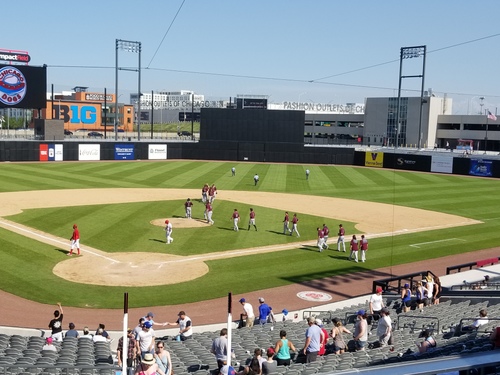 05/27/2018 5:26 PM
-
ROSEMONT, Il. – The high-flying aircraft over Impact Field coming in and out of O'Hare Airport in Chicago had plenty of company this weekend as the Kansas City T-Bones unleashed an 11 hit attack in an 8-6 win over the Chicago Dogs Sunday afternoon.
The game time temperature was 94 degrees at first pitch and reached 95 when the T-Bones took a 1-0 lead in the fourth inning on a double from Nick Torres. It was the first of eight extra base hits for Kansas City. The club added another run in the fifth when Dexter Kjerstad doubled and came home on an RBI single from Johnny Davis.
With Kansas City leading 2-1 in the seventh Cal Towey hit a two run home run to make it 4-1 Kansas City. But the Dogs fought back with a three-run home run in the bottom of the seventh from Kyle Gaedele to tie the game off Scott Collier (1-1)
Kansas City came back in the top of the eighth taking back the lead on a bases loaded walk and wild pitch to take a 6-4 lead into the bottom of the ninth. A sac fly by Chicago cut the lead to 6-5 into the top of the ninth. Kansas City then got a two-run blast from Keith Curcio to lead it 8-5.
The Dogs would load the bases with one out in the bottom of the ninth but only got one run home on a sac fly to center. Francisco Gracesqui picked up the save getting the final two outs. Collier tossed the first quality start of the season going seven while the loss went to Miles Moeller (0-1).
Kansas City is now 6-3 and winners of five straight, while Chicago drops to 1-8. Kansas City heads to Sioux City to continue the seven-game road trip for the first game of a four game series Monday night. The game can be heard online on the T-Bones Broadcast Network with the first pitch set for 7:05pm in Sioux City.
Season, group, mini-plans and nightly party suites are on sale now and can be purchased by visiting the Box Office at T-Bones Stadium. Call the Box Office at 913-328-5618 or purchase and print at www.tbonesbaseball.com. Box office hours are 10:00 am to 4:00 pm Monday – Friday and10:00 am to 2:00 pm Saturday. For additional information or interview requests, members of the media may contact the T-Bones Media Relations Department at (817) 739-3693. Stay tuned to www.tbonesbaseball.com. and the T-Bones Facebook and Twitter pages for updates throughout the offseason.
--T-Bones--