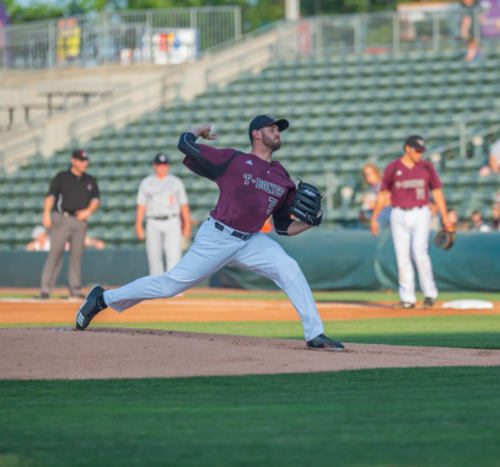 06/01/2018 10:00 PM
-
KANSAS CITY, Kan. –. Missed opportunities plagued the Kansas City T-Bones against the Wichita Wingnuts Friday night in Kansas City. Tommy Collier (1-2) pitched six quality innings, allowing one run on four hits. Kansas City out hit Wichita 9-6, but fell to the Wingnuts, 1-0.
The T-Bones failed to score a run, after a nine-hit outing against Wichita. Timely hitting became an issue for Kansas City, leaving seven runners on base and hitting into three double plays. Kansas City's best scoring opportunity came in the third inning when Angel Rosa was thrown out at home by Logan Trowbridge to end the inning. Newly acquired right fielder Todd Cunningham hit a two-out triple in the bottom of the ninth to keep the T-Bones rally alive, before Dexter Kjerstad grounded to the short stop for an easy put out at first. Collier pitched a fantastic game despite the loss.
Tony Thomas hit a solo homerun to left field in the second to give the Wingnuts an early 1-0 lead. Corbin Osburn (2-0) pitched six innings, allowing six hits, and zero earned runs. The Wichita Wingnut bull pen completed the shut out in Kansas City, pitching three more scoreless innings.
The T-Bones record fell to 8-6 and firmly into third place in the South Division after the loss while Wichita goes to 9-5 to hold sole possession of second place. The T-Bones will play game two of this three-game series Saturday, June 2 at T-Bones Stadium.
Season, group, mini-plans and nightly party suites are on sale now and can be purchased by visiting the Box Office at T-Bones Stadium. Call the Box Office at 913-328-5618 or purchase and print at www.tbonesbaseball.com. Box office hours are 10:00 am to 4:00 pm Monday – Friday and10:00 am to 2:00 pm Saturday. For additional information or interview requests, members of the media may contact the T-Bones Media Relations Department at (817) 739-3693. Stay tuned to www.tbonesbaseball.com. and the T-Bones Facebook and Twitter pages for updates throughout the season.