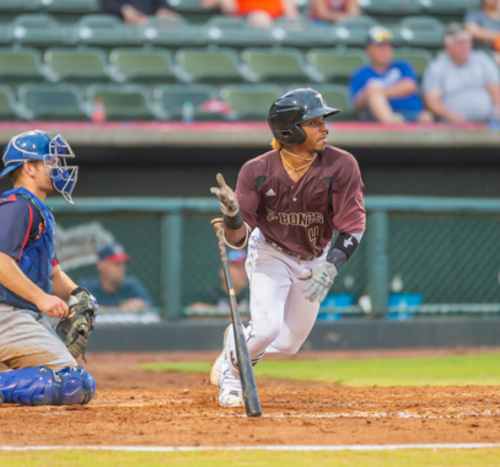 06/27/2018 8:46 PM
-
KANSAS CITY, Kan. – After a big first inning, Lucas Irvine (4-0) torched the Lincoln Saltdogs, giving up three hits in five innings pitched. The T-Bones rallied past Lincoln 7-1 on Wednesday night in Kansas City. During the first two games of the series, the T-Bones have dominated Lincoln, outscoring them 14-1.
The T-Bones offense jumped out to an early lead, hammering out six runs in the first inning. Todd Cunningham hit a one out single to center field that sparked the Kansas City offense. Nick Torres followed with a double, advancing Cunningham to third. A frenzy of singles by Taylor Featherston and Adrian Nieto scored Cunningham and Torres putting the T-Bones up 2-0. Keith Curcio kept the line moving, hitting a single of this own to load the bases for Dexter Kjerstad. Kjerstad delivered by hitting an RBI double, driving in Featherston and Nieto putting Kansas City on top 4-0. Another double by Mason Davis extended the Kansas City lead to 6-0.
The T-Bones offensive cooled off until the sixth inning. After Mason Davis hit a single to lead off the inning, he would advance to second base after Dylan Tice was hit by a pitch. Cunningham hit an RBI double that scored the speedy Davis from second.
A late ninth inning homerun by Randolph Oduber spoiled back-to-back shut outs for the T-Bones, ending the game with a final score of 7-1.
Tyler Herron (4-4) struggled for Lincoln, giving up twelve hits and seven earned runs in six innings pitched. Jackson Lowery and Pasquale Mazzocoli combined for three innings pitched, allowing one run on one hit for the T-Bones bullpen.
The T-Bones continued their red-hot winning streak, with their second shut-out of the Saltdogs. It's safe to say the T-Bones are hitting their stride at the right time. After tonight'svictory puts the T-Bones ten games above .500 with a 23-13 record. The Saltdogs fall to 22-16, and now trail the T-Bones by two games in the South Division. Kansas City will look for their third straight series sweep Thursday, June 28 at 7:05 p.m. at T-Bones Stadium.
Season, group, mini-plans and nightly party suites are on sale now and can be purchased by visiting the Box Office at T-Bones Stadium. Call the Box Office at 913-328-5618 or purchase and print at www.tbonesbaseball.com. Box office hours are 10:00 am to 4:00 pm Monday – Friday and10:00 am to 2:00 pm Saturday. For additional information or interview requests, members of the media may contact the T-Bones Media Relations Department at (817) 739-3693. Stay tuned to www.tbonesbaseball.com. and the T-Bones Facebook and Twitter pages for updates throughout the season.