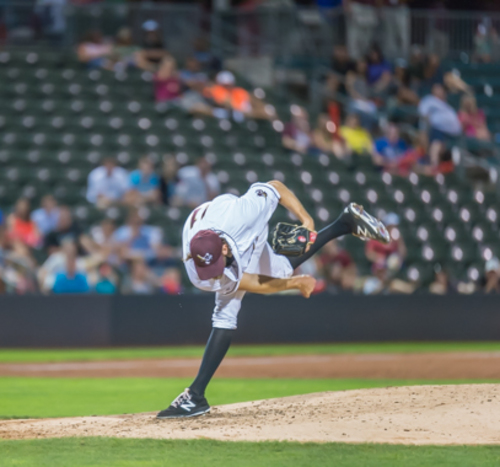 09/09/2017 1:39 PM
-
Phone: 817.739.3693
Website: www.tbonesbaseball.com
September 9, 2017
FOR IMMEDIATE RELEASE
T-Bones Trade Sides to Atlantic League
KANSAS CITY, Kan. – The Kansas City T-Bones announced that the club has traded right-handed pitcher Grant Sides to the York Revolution of the Atlantic League for a player to be named later.
Grant Sides a native of Northport, Alabama was signed by the T-Bones on May 14th just before the beginning of the 2017 season. Sides was initially working in the closer role, but was moved to the setup role on June 15th and became one of the best in the American Association.
Prior to the move, he was charged with nine earned runs in his first 19.2 innings. Following the move Sides allowed just three earned runs over his last 24.1 innings. For the season, the right-hander gave up just 13 earned runs in 48.2 innings with a 2.40 ERA. In 45 games Sides went 2-3 with three saves and 71 strike outs.
Sides finished on a roll with 30 strike outs in his last 23.1 innings, helping the T-Bones staff set a new league all-time strikeout record as a team with 897. He was tied for third in appearances in the American Association with 45 in 2017. York is looking to strengthen their bullpen as they enter play Saturday night a half game out of first place with nine games to play.
The Cleveland Indians originally signed Sides as the 12th round pick of the 2011 Draft out of Samford University in Birmingham, Alabama. He began his career in 2011 at Mahoning Valley in the New York-Penn League and climbed as high as AA Akron in the Eastern League in 2016. Sides was selected by the Arizona Diamondbacks in the 2016 minor league Rule 5 draft and spent the early part of 2017 with the Diamondbacks organization. He spent six games at AA Jackson in the Southern League and at AAA Reno in the Pacific Coast League. Sides worked a combined 13 innings with a 6.23 ERA posting an 0-1 record.
2018 Season tickets are on sale now and available online or by calling (913) 328-5618 or visiting in person the Providence Medical Center Box Office. For additional information or interview requests, members of the media may contact the T-Bones Media Relations Department at (817) 739-3693.
-- T-Bones—