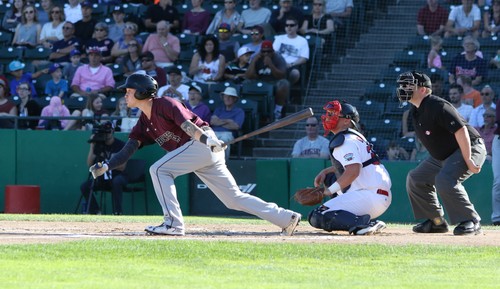 05/07/2018 12:55 PM
-
Welcome to Kansas City! Well, welcome me back to Kansas City that is! Spring training games are here! By week's end we will be ready to see our club begin take shape. In an effort to get you in the mood for the upcoming season, I thought a look back at what I thought, from the broadcast booth, were the most memorable moments of the 2017/15th season of #FunWellDone.
Remember this list is what stood out to me and is a matter of opinion from my seat. I am willing to bet your list may be totally different from mine or you might agree. Regardless, hopefully it will jog your memory and, most of all, get you ready for the 2018 season and the great season ahead.
Our moments today actually come from one game with two strange occurrences that, while related, really stand out on their own merit. So it is the "combo platter" today with moments #5 and #6. The funny thing about all of this is how close all of this came to not happening and how crazy it is that our game changes almost daily.
#6 Longest Game in AA history
#5 Sergey, the lefty
I wanted to separate these two events even though they happened on the same night. One did influence the other, so I think they should be together, but they should still stand alone in my memory bank. I have told this game story already 100 times this off-season as it was the most unusual evening I have ever witnessed in the booth.
This game looked early on to be a "ho hum" T-Bones winner. There was zero evidence that the two clubs would play five hours and 25 minutes when the first pitch was tossed by Winnipeg's Zach Nuding. That far north on this continent a 6pm start looks like about a 4pm start in Kansas City. Of note, the game went so long my time stamp actually read 1:25 am on Sunday the 15th when I posted the story online. Here was the first-hand account from that Saturday night July 15thin Manitoba.
T-Bones scored early to take the lead (Credit Dan LaMoal)
"The T-Bones got off to a 5-0 start off Winnipeg starter Zach Nuding and looked to be rolling. Kansas City got three home runs in the top of the second on a solo shot from Kyle Petty, a two-run shot by Joe Jackson and another two-run shot by Chantz Mack.
Let me stop right there and set the scene even clearer as this will play into the narrative a little later. The night before in the series opener, Winnipeg pounded out 14 hits and 16 runs in a 16-1 shellacking of Kansas City. It was over early, and you usually toss those out, but that game followed one of the hardest losses two days before on a Fargo Thursday get-away day game. Matt Sergey was terrific, but he got the hard luck loss, striking out nine, but Fargo-Moorhead made one third inning run stand up behind starter Will Solomon to win the final game of the series 1-0, shutting out Kansas City for the first time last season. So, a two game losing streak and Sergey pitching seven innings two days before is our backdrop.
Matt Sergey throws his normal right handed on July 13th .
(Credit Fargo-Moorhead Red Hawks)
Winnipeg would trail 7-2 into the fifth, but the chip-away theory on T-Bones starter Gabe Perez helped aid the cause for "Goldie" and a huge dose of Andrew Sohn. He would go 6-for-8 with seven RBIs. The T-Bones would walk 10 in the nine innings of regular play and another four in extra innings with five of the walks eventually scoring to help save the day for the home team.
From the game story,"The Goldeyes would chip away with RBIs from Josh Romanski in the fifth and from two from Sohn in the sixth to cut the lead to 7-5 going into the seventh. Luis Paula retired the first two batters he faced but would give up a single to Shawn Pleffner then walk back-to-back batters to load the bases.
With the sacks full, the Goldeyes got a single from Mason Katz to tie the game and then a bad hope single that bounced over Jerome Pena's head at short off the bat of Sohn gave Winnipeg a 9-7 lead."
In what was going to be a headline of "T-Bones win going away" suddenly became "T-Bones pen falters late" and would be rewritten one more time in the ninth. A game that appeared to be one that Kansas City let get away was on the cusp on going into the history books.
"Kansas City might have never been in extra innings if not for Tyler Horan in the top of the ninth. Winnipeg closer Ryan Chaffee followed up his one pitch appearance from Friday night with a save chance in the ninth. With two outs, Kevin Keyes looked to hit a fly ball to right to end the game, but David Rohm dropped the ball to leave the inning wide open. Horan then hit his 4th long ball of the year to tie it."
And so we played on into the night up north. Again, it just looks different that far north in July. That time of year the sun sets in Manitoba about 9:00pm, and with the 6pm start local time, the final glow of a Saturday sun had set, and we had seen the afterglow also disappear when we locked into the extra frames.
The two clubs dug in, and with each passing minute the game grew closer to the five-hour mark. T-Bones actually took the lead in the 13th with a bases-loaded hit by a pitch to Eddie Newton and a sac fly RBI from Kyle Petty off eventually winner Mitchell Lambson (4-2). The game would have just been another extra inning win, but that lead would not hold. How many fans remember that Petty also was pressed into action as a reliever? He worked a scoreless twelfth and was one out away from getting a relief win when Winnipeg tied the game on an RBI single from Romanski in the 13th.
During that last chance inning, I saw some stirring in the T-Bones pen but was not sure who it was. I have glossed over the fact that the pen ran through seven pitchers and Petty for eight arms total up to that point. Winnipeg was on their seventh arm in Lambson, and both clubs had few options. In my head during the inning break on the air I was trying to piece together who would it be, a starter coming in? Another position player? Heck it was neither; it was a lefty, or so it appeared as Kansas City came to bat in the 14th. The T-Bones did not score in the 14th, and we were already past the five-hour mark.
As a one-man crew on the road, these things sometimes drive a man crazy. If a number is wrong or a player changes a jersey, it is a pain. I looked out and saw #33 in my binoculars. The official scorer to my right on press row looked like he had seen a ghost and was frantically looking at the T-Bones roster to make sure we did not change numbers before the game. To my left the home broadcast crew was also looking at me somewhat bewildered as the left handed, no, I mean right handed, no wait left, no right, heck—either way it was Matt Sergey.
Matt Sergey throw as a lefty on July 15th (Credit Dan LaMoal)
An intern came into the booth to confirm both what I saw and what the roster had listed. Matt Sergey was #33, and he was indeed coming into throw as he jogged in from the right field pen. The pens in "Winny" are located in foul territory, and I could clearly see it was Sergey. As he took the mound to warm, the kicker was that he was warming left handed despite being listed as a righty. He had also thrown to get ready as a lefty in the pen. That threw everyone in the press box— me included—wheels off as we were all in a bit of confused amusement. But it was Sergey warming and Sergey coming into a tie game. He was able to get one out, but a one-out walk sealed the T-Bones fate despite the heroic effort.
Here was my story lead, "WINNIPEG, CANADA – In a marathon night the Kansas City T-Bones just flat ran out of arms in a 14 inning 12-11 loss to the Winnipeg Goldeyes Saturday night at Shaw Park. A Matt Sergey (2-2) wild pitch on an intentional walk attempt brought out the water bucket celebration for Winnipeg as they would walk off winners, ending the longest game in American Association history at five hours and 25 minutes. Sergey, a right-hander, was pressed into action for Kansas City, throwing left-handed. He was coming off a hard luck loss on Thursday where he gave up one run in a 1-0 loss."
I am not sure a screen writer could pull that script off. It might be the best way to sum up baseball. No one game is ever the same. Maybe you have your own cliché, but it shows how crazy our game is, game after game. I remember sitting there in the dark after the lights of the park were shut off and all the moths and bugs were pouring into the light of my booth as I typed away on the post-game story.
Winnipeg walks off winners on July 15th (Credit Winnipeg Goldeyes)
I remember telling myself to forget that Kansas City had now lost three in a row and with this loss, we fell two games back of Lincoln in the Central Division. Forget that as Sergey was facing his final batter that the game would beat the old American Association record of game length by three minutes. (El Paso and Wichita played five hours and 22 minutes on May 20, 2011, a 15-inning affair.) There was also Kyle Petty with an out from a win and a game winning insurance RBI at the plate who also was not a pitcher. The dropped fly in the top of the 9th, the blown lead, and maybe most of all the courage of Sergey to pitch as a lefty 48 hour after a hard-luck loss as a righty.
Those are all great story lines, but toss them all out. I remember thinking in that empty press box how crazy baseball is day after day and how you just cannot make these twists and turns up. That next day Kansas City may have played their most complete game of the year in a 13-2 win over Winnipeg, crushing 18 hits and every player in the lineup contributing. Everyday is different and one of the reasons I love this job!
#7: August 12
#8: St. Paul – Full throttle
#9: One crazy night on the lake!
#10: Opening Night: "How did we get that in?"