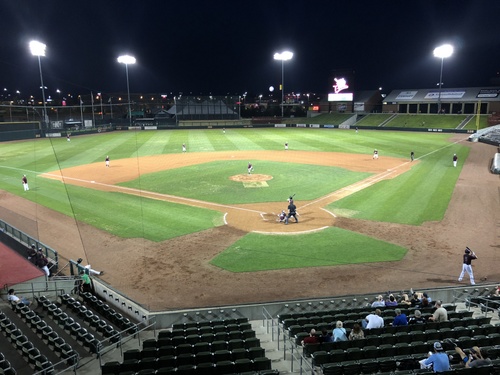 05/09/2018 10:34 PM
-
KANSAS CITY, Kan. – The T-Bones started off pre-season play strong Wednesday evening at T-Bones Stadium, beating the Gary South Shore Rail Cats 9-2.
The T-Bones bats looked alive early as the team raced out to a 3-0 lead on the Rail Cats thanks to an Adam Brett Walker two run homerun, and a Cal Towey RBI double.
The power surge continued in the second inning as Dexter Kjerstad exploded for a three-run homerun; Kjerstad first homerun of the spring extended the T-Bones lead to 7 – 0.
Behind the T-Bones offense surge, Hunter Adkins pitched a solid three innings of hitless baseball while Carlos Diaz gave up the first Gary hit with two outs in the fourth. Alex Crosby hit an RBI single in the fourth scoring the Rail Cats first run of the game.
Late game errors plagued the T-Bones in the seventh, cutting the lead to 7-2, but the T-Bones prevailed adding a sac fly RBI from Christian Correa and a solo home run from Adam Brett Walker his second of the game. The final score was 9-2. T-Bones are now 2-0 in exhibition games on the season.
The two teams will play again Thursday night at 7:05 pm at T-Bones Stadium. Before the game the club will host Meet the T-Bones night from 3:30 pm to 5:30 pm on the field and there will be a special appearance during the game by boxer Kenzie Morrison.
Season, group, mini-plans and nightly party suites are on sale now and can be purchased by visiting the Box Office at T-Bones Stadium. Call the Box Office at 913-328-5618 or purchase and print at www.tbonesbaseball.com. Box office hours are 10:00 am to 4:00 pm Monday – Friday and10:00 am to 2:00 pm Saturday. For additional information or interview requests, members of the media may contact the T-Bones Media Relations Department at (817) 739-3693.
Stay tuned to www.tbonesbaseball.com. and the T-Bones Facebook and Twitter pages for updates throughout the offseason. Home opening night is May 22 when the T-Bones host Gary SouthShore at T-Bones Stadium at 7:05 pm.
-- T-Bones--