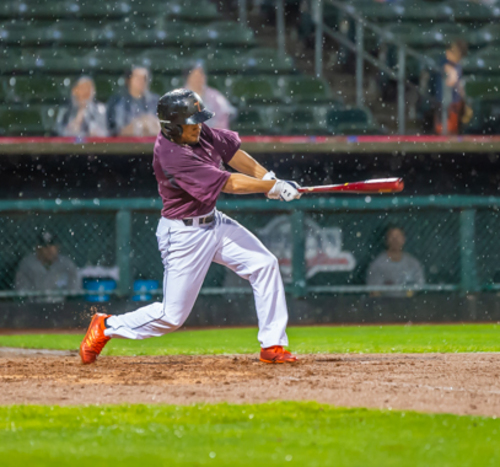 05/24/2018 11:42 PM
-
KANSAS CITY, Kan.– The Kansas City T-Bones battled bad weather and the Gary SouthShore RailCats Thursday night, winning 5-3 in their final game of the three-game series at T-Bones Stadium.
It was a soggy game as rain poured throughout the night keeping the grounds crew busy between innings. The RailCats jumped out in front in the top of the first, with T-Bones' pitcher Hunter Adkins giving up an early home run to Randy Santiesteban. The RailCats would increase their lead in the third inning with help of a Garrett Copeland RBI single and an error by Adkins leading to an unearned run and a 3-0 advantage.
The T-Bones finally came alive in the fourth-inning with a leadoff double from Nick Torres off starter Alex Gunn for Gary. Cal Towey would single to put runners at the corners. Dexter Kjerstad hit a sac fly to score one run and Angel Rosa reached with a "bloop" double to left center to cut the lead to 3-2. In his first T-Bones start, Johnny Davis gave the T-Bones a base clearing triple scoring Tucker Pennell and Angel Rosa to make the score 4 –3 KC.
Keith Curcio added a solo home run in the home half of the seventh to give Kansas City a 5-3 lead and some breathing room in the later third of the ball game.
Four T-Bones relievers combined to shut out Gary after Adkins left after five innings. Julio Eusebio, Francisco Gracesqui, Sam Street and Cody Winiarski each tossed a clean inning with Winiarski notching his third save of the season. The RailCats did get a two out double in the bottom of the ninth from Wilfredo Gimenez but Winiarski got a fly ball to left by the RailCat's Reggie Wilson to end the game, sending both players and staff out of the rain.
The T-Bones (3-3) hit the road tomorrow as they take on the Chicago Dogs (1-5) for their home opener at 7:05 at Impact Field in Rosemont, Illinois. It will be the first ever regular season home game for the Dogs. Hear all the action on the T-Bones Broadcast Network with the pregame at 6:40 pm.
Season, group, mini-plans and nightly party suites are on sale now and can be purchased by visiting the Box Office at T-Bones Stadium. Call the Box Office at 913-328-5618 or purchase and print at www.tbonesbaseball.com. Box office hours are 10:00 am to 4:00 pm Monday – Friday and10:00 am to 2:00 pm Saturday. For additional information or interview requests, members of the media may contact the T-Bones Media Relations Department at (817) 739-3693. Stay tuned to www.tbonesbaseball.com. and the T-Bones Facebook and Twitter pages for updates throughout the offseason.
--T-Bones--