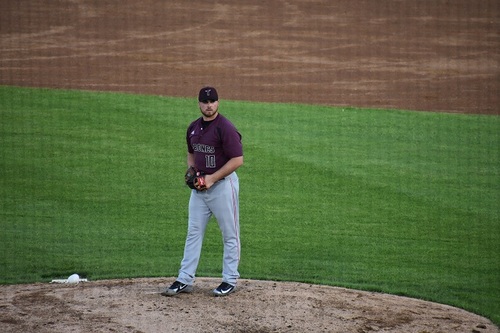 05/27/2018 7:48 AM
-
ROSEMONT, Il. –Solid starting pitching, some timely offense and a lock down bull pen were all on display Saturday night as the Kansas City T-Bones (5-3) held off the Chicago Dogs 4-2 at Impact Field in Rosemont.
Barrett Astin (2-0), making his first start as a T-Bone worked five innings to get the win. The right hander, who joined Kansas City earlier in the week, gave up five hits and two earned runs while striking out three Dogs.
Kansas City got the lead in the second inning on an RBI double from Tucker Pennell scoring Dexter Kjerstad who began the inning with a bunt single off Chicago starter Kylin Turnbull (1-1). In the third inning Kansas City road a pair of doubles to add to their lead. Dylan Tice doubled with one out part of a three-hit night for Tice. Nick Torres added another double with two outs to score Tice and it was 2-0 T-Bones. Dexter Kjerstad reached on an error and Cal Towey singled in Torres to make it 3-0.
In the home half of fourth Trey Vavra homered to left center to cut the lead to 3-1. Kansas City came back to take back a run behind another Chicago error in the top of the fifth. With runners at first and second Nick Torres hit a ground ball to third that went right through third baseman Matt Dean to allow Dylan Tice to score and it was 4-1.
Chicago cut the lead to 4-2 in the bottom of the fifth on a fielder's choice, but the Kansas City bullpen once again shut the door on any comeback chance for the home team. Julio Eusebio worked around two hits in the sixth and Sam Street retired all six batters he faced in the seventh and eighth to set up the ninth for Carlos Diaz. Diaz notched his first save after the first two batters reached, he struck out the next two and got an infield pop up to close it out.
The two teams will wrap up the series Sunday at 1:05pm. The game can be heard online on the T-Bones Broadcast Network. Kansas City heads to Sioux City following Sundays game to continue the seven game road trip.
Season, group, mini-plans and nightly party suites are on sale now and can be purchased by visiting the Box Office at T-Bones Stadium. Call the Box Office at 913-328-5618 or purchase and print at www.tbonesbaseball.com. Box office hours are 10:00 am to 4:00 pm Monday – Friday and10:00 am to 2:00 pm Saturday. For additional information or interview requests, members of the media may contact the T-Bones Media Relations Department at (817) 739-3693. Stay tuned to www.tbonesbaseball.com. and the T-Bones Facebook and Twitter pages for updates throughout the offseason.
--T-Bones--