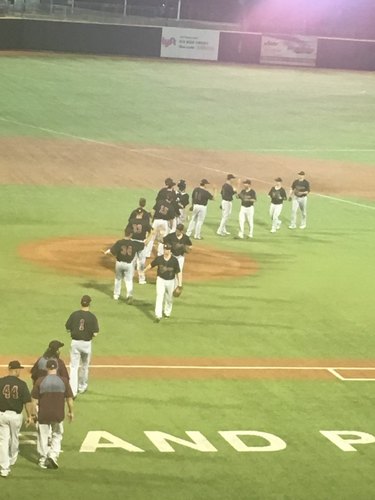 06/06/2018 9:39 PM
-
Grand Prairie, Texas – The Kansas City T-Bones bounced back after Tuesday's loss to the Texas Airhogs with an 8-0 win Wednesday night. Nick Torres powered the T-Bones offense going 2-4 with 4 RBI's on the night.
Dylan Tice started things off for the T-Bones with a leadoff single followed by a triple from Todd Cunningham that put Kansas City on the board with a 1-0 lead. With Cunningham on third, Nick Torres came up to bat and hit a sac fly to score Cunningham.
In the bottom of the 6th, Tucker Pennell drew a walk to start off the inning. Singles from Adrien Nieto, Angel Rosa, and Keith Curcio knocked in two more runs for the T-Bones.
Pennell once again started off the 8th inning with a single for the T-Bones and advanced to second on a single from Nieto. Pennell then scored off a single from Keith Curcio. With two outs, Nick Torres kept things going with a double driving in Cunningham, Nieto, and Curcio.
Barrett Astin (3-0) tossed a solid six innings, allowing only five hits and striking out six to get the win. Tyler Matzek (0-2) was credited with the loss after pitching six innings and giving up seven hits, four runs, four errors with six strikeouts.
The T-Bones (10-8) will take on the Airhogs (3-15) once again on Thursday night at 7:05pm and can be heard on the T-Bones Broadcast Network. The T-Bones return home on Monday June 11th to open a four-game series with the Sioux City Explorers at 7:05pm.
Season, group, mini-plans and nightly party suites are on sale now and can be purchased by visiting the Box Office at T-Bones Stadium. Call the Box Office at 913-328-5618 or purchase and print at www.tbonesbaseball.com. Box office hours are 10:00 am to 4:00 pm Monday – Friday and10:00 am to 2:00 pm Saturday. For additional information or interview requests, members of the media may contact the T-Bones Media Relations Department at (817) 739-3693. Stay tuned to www.tbonesbaseball.com. and the T-Bones Facebook and Twitter pages for updates throughout the season.
LISTEN TO ALL T-BONES GAME LIVE ON THE T-BONES BROADCAST NETWORK
--T-Bones--