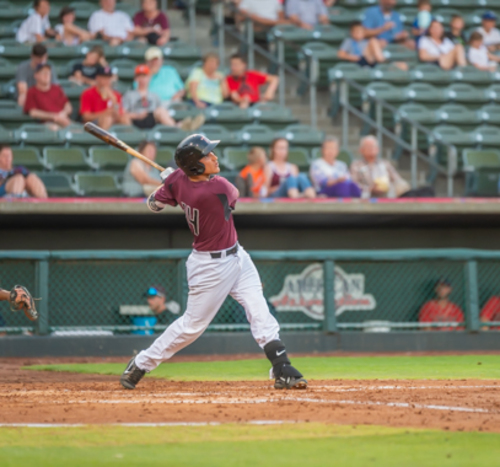 06/26/2018 9:43 PM
-
KANSAS CITY, Kan. - The Kansas City T-Bones blanked the Lincoln Saltdogs, 7-0, in a game dominated by brilliant pitching in Kansas City Tuesday night. Scott Carroll (3-0) cemented himself as the T-Bones go-to guy, giving up three hits in six scoreless innings. Nick Torres also had a career night, going 2-4, with a team high five RBI's and two runs scored.
After five scoreless innings by both clubs, the T-Bones offense came alive with two outs in the fifth. The scoring rally began with back-to-back singles by Dylan Tice and Todd Cunningham, putting Torres at the plate. Torres showed out, clearing the bases with a blistering three-run homerun that broke the 0-0 tie. Kansas City went up 3-0 heading into the sixth inning.
The T-Bones offensive surge continued in the seventh, tacking on four more runs. Torres delivered again, hitting a long fly ball to center field that dropped for a triple, scoring Tice from third and Cunningham from first. Torres scored his second run of the game after darting down the third base line to score on a wild pitch, extending the lead to 6-0. T-Bones newcomer, Taylor Featherston put his mark on this game, launching a solo homerun to wrap up an explosive four run inning to put the T-Bones up 7-0.
Carrol and Hunter Adkins combined for eight scoreless innings, allowing a combined six hits as the T-Bones pitching staff throws their second shutout of the season. Saltdogs starting pitcher Michael Tamburino (4-1) was credited with the loss after pitching six innings, giving up three hits and three earned runs.
The T-Bones are the hottest team in the American Association, winning a season high seventh straight game. Kansas City improves to 22-13 on the season and has positioned themselves as contenders in the South Division. The Saltdogs fall to 22-15, ending a three-game win streak of their own, falling one game back of Kansas City for third place. The T-Bones look to stay red hot on against the Saltdogs on Wednesday, June 26th at 7:05 p.m.
Season, group, mini-plans and nightly party suites are on sale now and can be purchased by visiting the Box Office at T-Bones Stadium. Call the Box Office at 913-328-5618 or purchase and print at www.tbonesbaseball.com. Box office hours are 10:00 am to 4:00 pm Monday – Friday and 10:00 am to 2:00 pm Saturday. For additional information or interview requests, members of the media may contact the T-Bones Media Relations Department at (817) 739-3693. Stay tuned to tbonesbaseball.com and the T-Bones Facebook and Twitter pages for updates throughout the season.
LISTEN TO ALL T-BONES GAME LIVE ON THE T-BONES BROADCAST NETWORK
--T-Bones--