News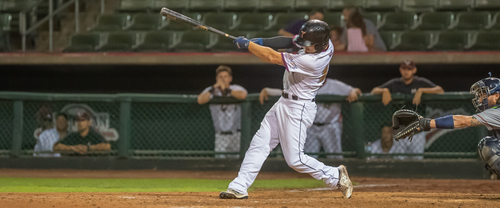 08/14/2019 10:06 PM
-
By: Alex Dean
KANSAS CITY, Kan. -- The Kansas City T-Bones (47-37) would continue their winning ways late in the game against the Cleburne Railroaders (47-35) as they walked it off in the bottom of the ninth, capping off a sweep of Cleburne and an eight-game winning streak.
Carlos Diaz (1-1) was credited with the win, working a scoreless top of the ninth for KC. Cleburne reliever Tyler Wilson (3-2) would pick up the loss.
Things would start off slow for both offenses, as neither team scored in the first three innings. However, in the top of the fourth, Zach Nehrir would give the Railroaders the first run of the game on a sacrifice fly to center field off KC starter Dylan Baker, bringing home Chase Simpson. They would get another in the sixth on another sacrifice fly to center field, this time it was John Nester driving in Simpson.
The T-Bones finally broke through in the bottom of the sixth on a first-pitch, leadoff home run to left by Shawn O'Malley off Cleburne's starter Michael Gunn. O'Malley would hit another home run in the next inning, this time from the left side of the plate, driving in Tyler Marincov and Ramsey Romano off Cleburne's Greyfer Eregua and giving the T-Bones a 4-2 lead.
Robert Calvano would take over Baker, who went seven innings of two-run baseball and who gave up the lead with a two-run home run to John Nester.
The score remained tied until the bottom of the ninth when Chris Colabello stepped up with the bases loaded against Wilson and sent one up the middle, bringing home Dylan Tice as the winning run.
Shawn O'Malley collected his third and fourth home runs of the season, finishing the night 3-4 with four RBI and two runs scored.
The T-Bones will look to continue their winning streak in a weekend series in Texas against the AirHogs. KC will play a doubleheader to start off the series, with the first pitch at 5:00 p.m. on Friday, August 16th. Catch all the action live on the T-Bones Broadcast Network.
Half-season 2019 ticket packages as well as mini plans are on sale now online or by calling (913) 328-5618 or by visiting the Saint Luke's Box Office between the hours of 10 a.m. - 4 p.m. Monday through Friday. Group ticket sales are also on sale now.
For additional information or interview requests, members of the media may contact the T-Bones Media Relations Department at (817) 739-3693. Stay tuned to www.tbonesbaseball.com and the T-Bones Facebook and Twitter pages for updates throughout the season.