News
12/14/2010 9:40 AM
-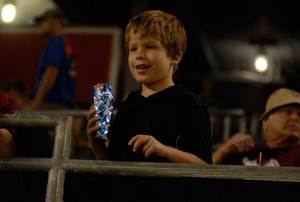 The Kansas City T-Bones and CommunityAmerica Credit Union are happy to announce the return of Kids Eat FREE for the 2011 season.
The Kids Eat FREE promotion debuted in 2010 as a partnership between the T-Bones and CommunityAmerica Credit Union. During each Monday game at CommunityAmerica Ballpark, the first 2,000 kids 12 & under receive a voucher for a free hot dog, bag of chips and lemonade.
"We are thrilled to again offer the popular Kids Eat FREE at CommunityAmerica Ballpark for the 2011 T-Bones season," said Greg Manis, director of marketing for CommunityAmerica Credit Union. "Our goal is to provide our community with a fun, family-friendly and budget-friendly activity as we work to help Kansas Citians build financial success together."
The promotion is a perfect example of the fun, family entertainment the T-Bones have offered since their inaugural 2003 season. Along with $1 hot dogs and free parking, as well as ticket prices that start at just $6.50, the Kansas City T-Bones are happy to continue their tradition of FUN…WELL DONE in 2011.
"We are excited to partner with CommunityAmerica Credit Union and think this will be a home run with our fans and their families in the metro," added T-Bones general manager, Chris Browne.

Season tickets for the 2011 season are on sale now and can be reserved with a $50 per seat deposit. For more information, and to place your season ticket order, contact Kurt Sieker at 913-328-5640. Stay tuned to www.tbonesbaseball.com as additional ticket packages and specials are announced.