News
04/15/2011 8:25 AM
-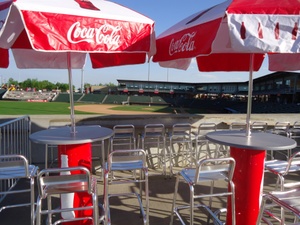 The Kansas City T-Bones are happy to announce a new seating area for the 2011 season. Located beyond the left field wall, this new section has been named the LF Party Porch Box.
Each box is designed to be your own private party zone and offers a stellar view of the on-field action! Boxes include 10 tickets, 10 beers or sodas, 10 hot dogs, and popcorn. Boxes can be combined to accommodate up to 60 people.
This spot can be yours for just $160 per box. Tickets only for $110 per box. To order, or for more information, call the T-Bones groups department at 913-328-5623 or email groups@tbonesbaseball.com.