News
08/18/2011 12:11 PM
-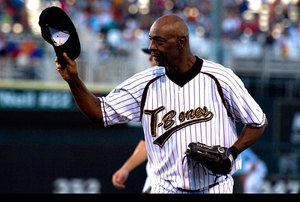 The Kansas City T-Bones and Royals Hall of Famer Willie Wilson are excited to announce the return of the Willie Wilson Legends Game to CommunityAmerica Ballpark on August 20, 2011.

The game is scheduled for 7:05 p.m. and will be a seven-inning exhibition contest. Join us for a night of fun, food, silent auctions and America's national pastime with proceeds to benefit Quest to Walk, a group dedicated to being seen as a beacon of hope and a means for people with spinal cord injuries to achieve their goals, mentally and physically. Quest to Walk strives to be one of the leading organizations within the spinal cord injury and recovery community by their peers, medical professionals, research pioneers and clients.

Wilson will be joined by a number of former major league greats, including:
Royals Hall of Famer, five-time all-star and three-time Gold Glove winner Amos Otis
Royals Hall of Famer and two-time all-star John Mayberry
Royals Hall of Famer and three-time 20-game winner Dennis Leonard
Dave Stewart, 1989 Major League All-Star and four-time 20-game winner; finished in the top five in Cy Young award voting in each season from 1987-90
Jon Warden, who went 4-1 with three saves and a 3.62 ERA in 28 regular-season relief appearances for the 1968 World Series Champion Detroit Tigers
Darryl Motley, member of the 1985 World Series Champion Kansas City Royals and former T-Bones hitting coach
Ron Robinson, nine-year major league veteran with the Cincinnati Reds and Milwaukee Brewers
Dmitri Young, two-time all-star who posted a .292 lifetime average and blasted 171 home runs over 13 major league seasons
Many of the legends in attendance will take part in a FREE pre-game autograph session from 6:00-6:30. Tickets to the event are $10 for reserved seats and $6.50 for general admission/berm. Call the T-Bones box office at 913-328-5618 for more information.

If you would like more information on sponsorship opportunities, contact the Willie Wilson Baseball Foundation at willie@williewilsonbaseball.org.