News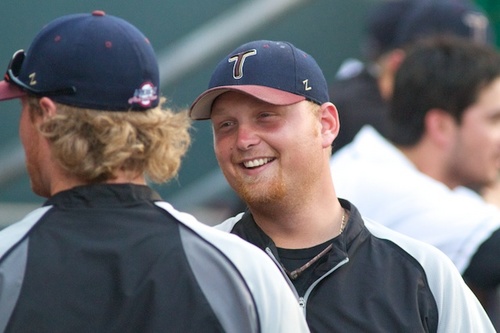 07/26/2012 4:50 PM
-
Every fifth game, when Josh Rainwater goes to the mound for the T-Bones, as he'll do tonight against St. Paul, what's gone into that start? Has he been studying hitters since his last start? Has he been watching video of his last start? Has he been uptight? In the latest installment of "Covering the Bases," Rainwater tells Chris Sourk three keys to preparing for a start.

Pre-game routine:

Well, at home it all starts with my lunch. Me and a couple of guys, usually Devin Anderson, go about our pregame meal. You don't want to eat too early or too late, and my main number one is Chick-fil-A. I get to the ballpark about 4-4:30 and I just relax, put on some good music for the clubhouse and just slowly start to get into my routine of getting my body loose, getting all of my game attire ready, stuff like that. Then I go down to the field and do a light stretch before I start throwing. Then, when it's game time, I start stretching at like 6:40 for a 7:00 game, and then I start throwing.

Knowing the opposing batters:

I really don't pay attention to the rosters and stats until guys come in because, as I tell guys, every day a guy's going to swing the bat differently. As long as you come in and do your main keys of throwing strikes down in the zone and making them hit your pitches and not falling behind in the count, you'll be successful in the game.

Having a goal for the start:

The main thing I look for early is my sinker. I have to get it low and away and be able to work the inside corner. After my first three pitches, I want to either have them put the ball in play or get them to a 1-2 count. Other than that, I like to go about seven innings. If I go seven innings and hold them to less than three runs, I feel like that's a good start for me.