News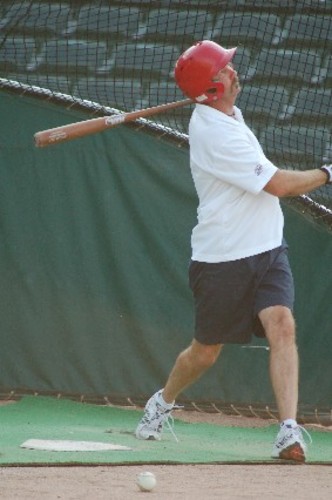 09/10/2012 5:26 PM
-
Have you ever wondered what it would be like to stand in the batter's box at CommunityAmerica Ballpark and belt a line drive to the wall like Brandon Jones? Or to roam the outfield and try to rob a home run ball in right field like Ray Sadler?

For nearly every baseball fan, especially those who realize their shot at playing professional baseball ended around the sixth grade or so, it's a dream to take batting practice on an actual pro team's field.

During the T-Bones' final road trip recently, sponsors from the 2012 season got a chance to do just that in the organization's first "Sponsor Batting Practice." Approximately 75 sponsors and their families signed up to take BP, which also included a round for children under 18. All told, there were nearly 100 people at CommunityAmerica Ballpark for the event. Those who weren't in the batting cage or shagging fly balls in the outfield were in the stands enjoying free bratwursts from Johnsonville and soft drinks.

"We thought this event would be a great way to thank our sponsors for a successful 2012 season and it was exactly that," said Seth Alberg, the T-Bones Senior Director of Corporate Sales. "Our sponsors and their families that made it out to the ballpark had a lot of fun and the T-Bones staff enjoyed catching up with them before the off-season."

With the event's success, the T-bones are looking forward to hosting another batting practice next season for all of the 2013 sponsors.