News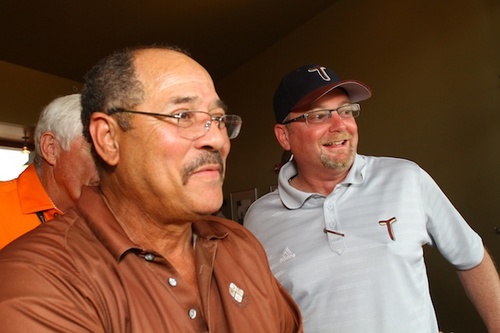 09/21/2012 5:16 AM
-
As we wrap up the 2012 season and look ahead to 2013, T-Bones General Manager Chris Browne talked this week with Matt Fulks about the '12 campaign from Browne's perspective.

Matt Fulks: There were a lot of changes heading into this season, particularly with the coaching staff. Are you happy with the way things turned out?

Chris Browne: It was definitely a transition period but it was exciting to bring in new energy from the front office to the field. (Manager) Kenny Hook had been here as a coach, but for him to become the manager and then bring in three new coaches was hectic at times, but it was a fun transition. I thought it really energized the staff and the team heading into our 10th anniversary season.

MF: Kenny and the coaching staff, along with the players, really seemed to get along great. For the most part, this was a great clubhouse and a great group to be around.

CB: As you pointed out in the season-wrap article for the website, we had a lot of new people in that clubhouse. Obviously the coaches, but then almost a completely new roster. Sometimes fresh blood brings in new energy, and I think that was the case here. The guys had a good attitude -- it was positive and fun to see. Obviously there's more work to be done to get where we want to go, but I look forward to better things next year.

MF: Wichita got off to such a hot start in the season and the T-Bones didn't, so for the first month or six weeks, the club didn't seem to have much of a shot, but then things turned around in July and right up until the last week. What seemed to be the key in your mind for the run the club had in July and August?

CB: We had some moves that had to be made out of the box that put us at a disadvantage. Kala Ka'aihue retired early in the season after battling some injuries, so we had to make some moves to fill his void. By July the team got stabilized and we started winning some series. I thought we played darn good baseball for about two-and-a-half months.

MF: We've had articles on the website about your past with the Royals and knowing Frank White since you were a teenager. Did you personally have fun seeing Frank out here on a nightly basis?

CB: It was great. I said it before, but now that we're looking back on the season, I know even more that it was the right fit for him, for our fans, and then for the staff and players. He brought 20 years of Major League experience as an All-Star, Gold Glove winner, playoff MVP and Royals Hall of Fame player. That's a lot of credibility. It definitely was fun to have him around the ballpark.

MF: Off the field, we had some great promotions and great nights, all helping lead to the second-best in attendance in the American Association. with an average attendance of 5,212.

CB: I give a lot of thanks to our fans, our partners, CommunityAmerica and our staff. As we like to say, we put on 50 parties a year. To have more than 5,200 fans a night is strong. Then, we had a record crowd of 10,202 in June. To be 10 years in and have record crowds is unheard of. We thank our fans, the community and the city. We're already looking forward to what 2013 might bring.

MF: As you think back to the 10th anniversary season of 2012, what's going to stand out?

CB: There are so many things, starting with the creation of the 10th anniversary logo. And then, having Frank White here, setting attendance records, extending our partnership with CommunityAmerica Credit Union, the fun promotional nights, including having Mr. Belding (actor Dennis Haskins) out here and our guest singers for the seventh-inning stretch, to the various celebrations throughout the summer with the Kansas City A's and the Royals All-Stars -- not to mention some good baseball. It's a whole gamut of things that add up to a terrific season.