News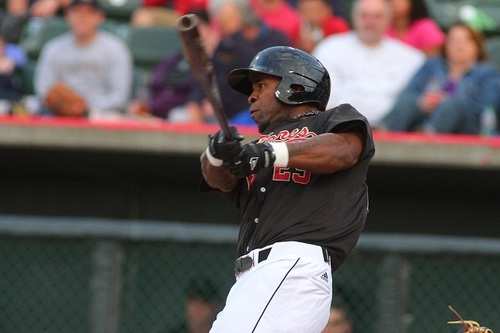 11/08/2012 3:38 PM
-
By ASHLEY DUNKAK
tbonesbaseball.com
Outfielder Ray Sadler was a great addition for the T-Bones in 2012. Besides being familiar with the T-Bones and the city, having played here previously, Sadler provided a home run bat and a good veteran presence.
As good as Sadler is, including homering in the Major Leagues, he will tell you that no one is too good to listen.
"That's where a lot of people get their knowledge," Sadler said. "The guys that don't want to watch and listen, those are the guys that you really can't tell anything, and you've got to just let them experience it on their own. The guys that watch and listen, they pick up things faster."
Fortunately, Sadler is one of the latter. His willingness to keep learning, even in a league where he is recognized as a veteran and treated as such, helped him with his swing when he returned to the T-Bones during this season after spending some time playing Italy earlier in the year.
"There were a couple things with hitting that I was doing when I first got here that we switched up, and I think it's done a great deal for me," Sadler said. "My feet, that I was closing myself off while hitting, stuff like that."
Sadler has been playing baseball since he can remember, but he did not figure out he wanted it for a career until after the Chicago Cubs drafted him out of Hill College following his freshman year. Then he started to take the game more seriously.
Before joining the T-Bones for the first time in 2010, Sadler spent a decade in affiliated ball, starting with the Chicago Cubs organization and eventually spending time with the Pittsburgh Pirates, the Houston Astros and the Tampa Bay Rays.
In 2005, Sadler got to live his dream when the Pirates called him up. While he wishes he had stayed there longer, he enjoyed the brief time he had.
"Unbelievable," Sadler said with a smile. "I was floating. That's all I could tell you. I was floating. You have to be there to experience something like that. It was a great time. I loved every minute of it that I had up there. Wish I could get back there, but I lived through it the couple days I was there. It was great. I loved it."
After spending 2010 and 2011 with the T-Bones, Sadler signed on with the Danesi Nettuno of the Italian Baseball League but eventually found his way back to Kansas City. He went to Italy for a different experience, and while he took advantage of the beach a few times and enjoyed spending time with roommates and teammates while he was there, he ultimately decided the situation there was not for him.
"Sometimes it's good to have change," Sadler said. "Sometimes it's not."
For the T-Bones, the return of one of the best players of the franchise was definitely a positive. Though he spent most of his time in affiliated ball, playing independent has given him a little more freedom in some ways.
"The only difference is I don't have a lot of guys telling me how to do things," he said. "In affiliated ball, people have certain things they have to tell you, that they have to work with you on, and here they're looking at me as a veteran, so they think, 'Okay, he knows what he needs to do.' If I need something, I'll ask them and they'll help me with it, but if not, they'll just let me do my thing."
Sadler was happy to be back in Kansas City, a familiar setting and in a good lineup.
"It's definitely a good lineup," Sadler said. "We have a great team. We know what we can do, and we go out and try to play hard every day."