News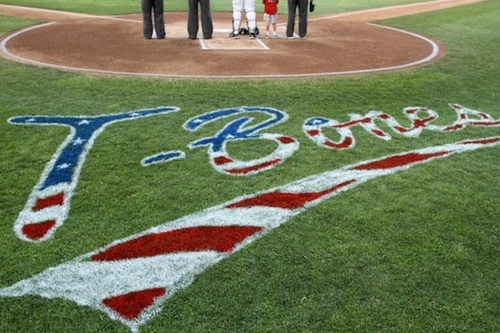 11/12/2012 8:21 AM
-
As long-time T-Bones coach and manager, Tim Doherty, pointed out in a recent article, one of his most vivid memories of being around the T-Bones organization is the club's strong desire to salute military personnel each season. All of us with the organization have a strong appreciation for those who have served and continue to serve in our armed forces.

So, thank you!

With Veteran's Day yesterday and observance of the day today, and one of our city's other pro sports teams – the Chiefs – playing the Pittsburgh Steelers tonight, we felt it would be appropriate to run this column by Matt Fulks, our Director of Media Relations. We hope you'll forgive us today as we stray from an article focusing on the T-Bones.

"As long as you keep moving forward, you'll reach the finish line."
—Unknown

Throughout each person's life we encounter at least one individual — whether it's as basic as a casual acquaintance or as personal as a friend or a relative — who teaches us about living and makes us realize that we can do better. It's these people whose lives can intimidate writers, or at least give writers a mental hurdle while trying to relay the story in a perfect way.

Rocky Bleier, who is best known as a running back with the great Pittsburgh Steelers teams of the 1970s, is one of those people. His story, while worth telling and retelling and passing along to children and grandchildren, is challenging.

I have a deep appreciation for anyone who's ever had the guts to serve our country. Heaven knows I didn't and still don't.

That appreciation — combined with a love of the Steelers that began as a child — makes Bleier a perfect subject to honor today as we celebrate Veteran's Day.

It's tough to find one word to describe Bleier and his life. Oh, you could use courageous, inspiring, athletic, heroic, unwavering, horrific, determined, incredible, astonishing, remarkable, and tenacious. And so many more. You could also throw in Super Bowl champion and college national champion, but of course neither of those is just one word.

Shoot, Ernest Hemingway, John Steinbeck, Pat Conroy, and even the Merriam-Webster folks would struggle finding one word to describe Bleier.

The remarkable aspect of Bleier's life is not what he accomplished on the field per se.

"Like many people, I probably peaked when I was nine years old, in a game against my neighbor when I scored 52 touchdowns on one afternoon," Bleier quipped during a phone interview, laughing. "That was probably the biggest game of my life, and it's been downhill ever since."

Actually, Bleier, a native of Appleton, Wisc., played an important role on Notre Dame's 1966 national championship team under coach Ara Parseghian. But he wasn't given much chance of making it in the NFL, particularly because of his 5-foot-11, 205-pound frame. The Steelers didn't gamble a lot when they drafted him in the 16th round of the 1968 draft.

It wasn't long after when someone else drafted Bleier. That's where Bleier's story takes its most revealing turn.

In December 1968, with three games left in his rookie season, Bleier received an unwanted piece of mail before practice…his draft notice for the U.S. Army. With the United States near the height of the Vietnam War, Bleier loved his country, but, c'mon, how many 22-year-olds really wanted to go to war?

"I can't say that I was gung-ho about serving," he said. "I can't say that I wanted to or needed to serve our country in time of war. Like most others, I was just an average guy who got a draft notice. I'm sure my thought process wasn't much different than anybody else who got drafted, when you look at that [notice] and say, 'Aw, (insert your own profanity)! How did I screw up? Now what do I do?' But you do what you think is right. You go and you serve."

When someone received a draft notice, he usually had a week before he had to report. Bleier's draft notice reached him late. He had one day to report. The Steelers tried to help him defer until the end of the season, but the best they could do was designate him with high blood pressure, giving him an extra day before reporting.

Five months later, in May 1969, Bleier was sent to Chu Lai, South Vietnam, with the 196th American Division's Light Infantry Brigade.

In August, a year removed from the start of his first NFL season, Bleier's life was altered in Heip Duc as he was crippled by enemy rifle fire and grenade wounds in both legs.

It appeared as though his NFL career — not to mention his ability even to walk normally — was finished.

But while he was still in the army, Bleier worked to become a better football player.

"Whether it was by design or by the grace of God, or the lessons that I needed to learn, I fell through the cracks and came back alive," he says. "I went over there, I served, I got wounded, and I got wounded again. I wasn't wounded enough to not play, but enough to learn a lesson.

"People have asked me if the experience made me a better ballplayer. I would have to say yes, it did. If I hadn't gone, would I have been a better ballplayer? I don't know. I do know that what I wanted to do was come back from Vietnam and play football. That drove me. So I pushed myself.

"When I was in the service, I got up at 5:30 in the morning and ran prior to going to my duty station. When I got done with my duty, I came back and lifted weights. When I got done with that, I went home and ran sprints. All of that was part of wanting to come back with a focus."

Bleier, who was awarded a Purple Heart, a Bronze Star, and two campaign ribbons, came back with that same desire to play football.

Steelers' owner Art Rooney, whether out of a belief in Bleier or pity for him, gave Bleier a second chance.

Two years later, in 1972, after working off the injured reserve and the taxi squad, Bleier made Pittsburgh's active roster.

"I think all of us want hope. As long as we can see the light at the end of the tunnel, we're okay," said Bleier, who retired from the NFL after the 1980 season. "As long as there is hope, or a ray of hope, of either making the team or doing something that you love, then you push yourself forward."

Bleier became an important part of those championship Steelers teams of the '70s. His best statistical season in 12 years with the Steelers came in 1976, when he rushed 220 times for 1,036 yards and five touchdowns, and caught 24 passes for 294 yards. He was best known on the field, however, as a great blocking back for Franco Harris, en route to four Super Bowl titles.

And to think that, as with so many other American veterans, Bleier's life changed with one letter. In many ways, the lives of fans who followed Bleier's career changed with that letter.

"Vietnam is a part of my story and a part of who I am," he said. "Am I thankful for Vietnam? I'm thankful for the experience. I'm thankful for going. I'm thankful for having served. I'm thankful for the people I have served with, and those who served before and after me. I'm thankful for the people who know me and the relationship they have as one of those who defended our country."

Indeed, Rocky Bleier can give us a kick in the pants every now and then. He can teach us that we should be thankful for life's challenges.

He can teach us about change and being our best and finding our strengths. He can teach us that we will reach the finish line with each new step. And he can teach us that we sometimes do get a second chance.