News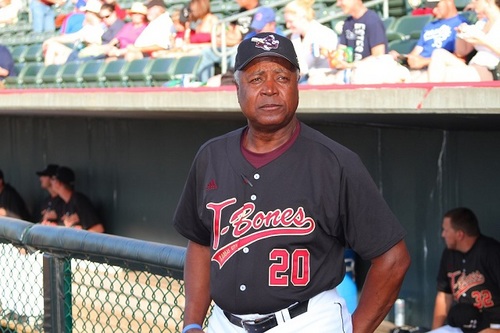 12/03/2012 10:28 AM
-
By MATT FULKS
tbonesbaseball.com

Johnny Carson once said that "if life was fair, Elvis would be alive and all the impersonators would be dead."

Kansas City fans have long known that life wasn't fair. Besides the disappointment of a few American League Championship Series against New York, there's the fact that somehow T-Bones coach and legendary Royals player Frank White was locked out of the Hall of Fame more than a decade ago.

White's play at second base during his era was incomparable. Everyone else was an impersonator.

Yes, in case you haven't guessed yet, with the announcement last week of the candidates for the Baseball Hall of Fame 2013 class and this week's Baseball Winter Meetings in Nashville, Tenn., it's that time of the year when I remind people that among all of the Hall of Fame snubs — and there have been some doozies — Frank White is near the top of that all-time list.

Of course, at this point the only way Frank White will become a member of the Baseball Hall of Fame is by the grace — and wisdom — of the Veteran's Committee. And, based on the Hall's current three-year cycle for voting for long-retired players, White won't even be a possibility for consideration until December 2013 at the Winter Meetings. (This week at the Winter Meetings, the Committee is considering the Pre-Integration Era, which is 1871-1946.) Even next year, it's doubtful. At least that's how it seems. The author in me will say that many are hoping – and it's possible – that White's new autobiography could bring his name back to the forefront. (More about the book in this space later this week.) And, working as a coach with the T-Bones is helping to get his name out there on a regular basis, too.

For now, though, this remains a "fun," albeit maddening, look at the stats to see just how productive Frank was.

For 18 years, White was as good as it got at defense, in an era with some great defensive second basemen. Willie Randolph, Lou Whitaker, Rod Carew, Paul Molitor, Julio Cruz and Rich Dauer all were in that group. Yet, once he started playing regularly with the retirement of Cookie Rojas, White dominated the position, winning eight Gold Glove Awards.

Here's an idea of how difficult it is to be the best player at your position consistently. The Royals, especially throughout the 1970s, had some exceptional defensive players. During the club's history, 10 players have won 20 Gold Gloves. Amos Otis and Alex Gordon are the only other Royals besides White to win more than one. A.O. won three; Gordon has won two.

Before White moved through the Royals Academy and the minor leagues, he had gone from outfielder to third baseman to shortstop. Early in 1974, after being called up late in the '73 season, White platooned with George Brett for a few weeks at third before moving to second.

With Rojas nearing the end of his career, it became apparent that White would take over for him. Boy, did he ever. White won his first Rawlings Gold Glove in 1977. And then he won the next five. He added two more in 1986 and '87.

The one season in White's career that still boggles my mind on so many levels is 1988. That year, at the age of 37, White enjoyed one of the best defensive seasons of his career. In 148 games, he had 293 putouts, 426 assists and committed just four errors. All four were throwing errors — to four different first basemen. He ended the season with a career-best .994 fielding percentage.

A lock for the Gold Glove, right? Well, if it hadn't been for Seattle's Harold Reynolds, of course. Reynolds must've had compromising photos of voters or something because in 158 games, he committed 18 errors and finished with a .977 fielding percentage. And he won the award.

"I was truly disappointed and dejected when I didn't win it that year," White said. "That was the first and only time that I expected to win any type of award."

The only knock on Frank's career and perhaps the one main reason he's not in the Hall of Fame is his offense. Of course, as we've known for years, offense is the ticket to the Hall of Fame.

"I think it's unfair that the Hall of Fame looks mainly at offensive numbers because defense is a major part of baseball," the late Hall of Fame broadcaster Ernie Harwell told me several years ago. "It is so much easier to look at a player's batting average and say that he hit .304 over 15 years so he deserves to be in the Hall of Fame, than it is to judge a guy by his fielding percentage. Fielding is more subjective because you have to see the guy play.

"But Frank was a good hitter. He certainly wasn't a guaranteed out."

For comparison purposes only, here are the career lines on two players.

2,163 Games, 2,016 Hits, 138 HR, 853 RBI, .260 BA, .983 FP, 8 Gold Gloves, 5-time All-Star
2,324 Games, 2,006 Hits, 160 HR, 886 RBI, .255 BA, .983 FP, 8 Gold Gloves, 5-time All-Star

Until you see those numbers next to each other, you don't realize just how close White's career was to Hall of Famer Bill Mazeroski. (Maz is the top line.) Granted, neither one was a feared hitter, but you couldn't take the bat out of their hands, either.

"I don't know how to determine the best second baseman of all-time, but Frank should be considered," said Royals long-time announcer Fred White. "Howie Haak, the scout who signed Mazeroski, told me that he felt Frank was a better player than Maz."

The Royals didn't win consistently because they had great power hitters. They won with the old philosophy that a competitive championship team needs strength up the middle on defense. The Royals had that with Fred Patek and White at shortstop and second, respectively, Amos Otis and Willie Wilson in center field, and the likes of Darrell Porter and Jim Sundberg catching. Quietly anchoring that was White.

"Much like Dave Concepcion in Cincinnati, Frank was the glue to (those Royals teams)," Hall of Fame shortstop Ozzie Smith told me for Frank White's first book, "Good As Gold." "But, because there were so many other stars, he didn't get the recognition that he deserved. Frank was one of those guys who hides in the lineup. When you look down their lineup, you realize just how important he was to those teams."

And how he's one of the biggest Hall of Fame snubs of all-time.