News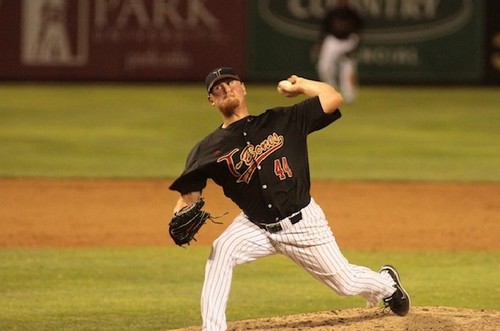 01/22/2013 10:40 AM
-
The Kansas City T-Bones have announced the re-signing of Steve Kent, culminating a big week for the pitcher.

Kent, a 6-foot, 200-pound left hander from Canberra, Australia, went 4-4 with one save and a 4.56 ERA last season with the T-Bones. In 41 games (47 1/3 innings), Kent struck out 67 and walked 17. During his lone save of 2012, Kent entered the game with the bases loaded and no outs in the ninth inning against Grand Prairie in July. He struck out the first batter and then got the final batter to ground into a game-ending double play.

"To have Kent signed at this point is huge for us because he's a great building block for our pitching staff, and one of the anchors now of the bullpen," said T-Bones manager Kenny Hook. "He was huge for us last season as both the left-handed set-up guy and as a long reliever who could close games. Since he was our only lefty out of the bullpen for much of the season and we had to use him so much, his numbers aren't indicative of how valuable he was."

In addition to signing with the T-Bones, the Australian Baseball Federation announced on Friday that Kent made Australia's roster for the upcoming World Baseball Classic.

"Obviously I'm excited that the T-Bones have a pitcher in the World Baseball Classic, but more importantly, I'm excited for him to have this well-deserved opportunity," Hook said. "And, because of the huge stage with great players from around the world, this might create some opportunities for Kent with an affiliated team."

Kent, who spent five years in the Atlanta Braves organization and then went to spring training last season with the Kansas City Royals, has represented Australia previously on the world stage. In 2011 he was on Australia's team that played in the International Baseball Federation World Cup; in 2008, he played in the Beijing Olympic qualifying tournament for Australia; and was on both the U17 and U19 teams that played in the World Championships. (The U17 team won the bronze medal.)

The Australian team will head to Taiwan in mid-February to prepare for the 2013 World Baseball Classic, which begins March 2.

Tbonesbaseball.com will feature occasional updates from Kent, beginning in late February, while he is at the World Baseball Classic.