News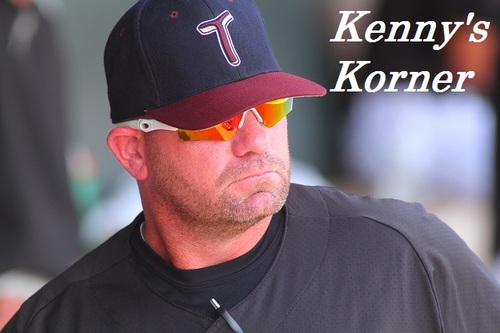 01/30/2013 6:50 AM
-
Through the middle of February, T-Bones manager Kenny Hook is working as an "instructor" in the California Winter League in Palm Springs. In its fourth season, the CWL has grown into an eight-team league and become a destination for players who want to get noticed by a Major League club. The instructors are either managers from one of the independent leagues or a former Major League player. Tbonesbaseball.com is featuring regular updates from Hook as told to Matt Fulks.

We've been here about two weeks now – playing games a little less than that – and we're seeing how guys bounce back after playing three or four days in a row. In evaluating these players and seeing if these guys fit what we want to do in Kansas City, I want to see how they bounce back, but I'm watching to see how they retain information. And, if they retain it, can they use it productively in a live game situation? I'm working, primarily, with the hitters on our team, so I'm looking to see if they can take that information from the batting cage to the game. There's a lot of information and different terminology from what these guys heard in college to what they've heard in pro ball. Some guys retain information better than others. The guy who can hear it one time and then feel it and retain it, is continuing to work on it on his own and it's showing in game situations. Talking to Frank White last season, that's one of the biggest things when evaluating every professional player: can he learn from what he's hearing or does he keep making the same mistakes? Everybody here is talented, but do they play smart, are they instinctive and do they care?

In addition to all of that, Ricky VanAsselberg, the manager at Grand Prairie and my co-manager here, and I want to see what guys are doing away from the field when we're not watching. Sure, guys want to show up when we're watching, but they need to be working when we're not watching. All of the guys here are talented, but if they're serious about getting a job, they have to show that both on and off the field. All teams in baseball have players that are hungry and have a good work ethic. Then there are guys who want the manager to perceive them that way. But what's really under the sternum? Is there heart and desire and drive to work so you're not denied? This game is about failure. Can you go hitless in five at bats, but still go to the plate with confidence and an ability to slow the game down? Ricky and I have been doing this long enough to separate the true hard workers from the pretenders.

Whether it's here or with the T-Bones, I want guys who work hard and are smart players. I'm big into the intellectual part of baseball because that's a big part of winning games. Sure, we want guys on our club like Brandon Jones, Ray Sadler and Devin Goodwin, who can launch a three-run homer, but we also want guys who instinctively do the little things to help the team win, whether that's in a hit-and-run situation or knowing with every pitch what you're going to do on defense if the ball is hit to you. (By the way, Jones, Sadler and Goodwin can instinctively do the little things, too.)

Off the field, there's been a Roger Clemens and an Ozzie Smith sighting. I'm hoping to spend a few minutes with Ozzie at some point before this league wraps up. As for Clemens, he did something really cool. I'll tell you about that later this week.