News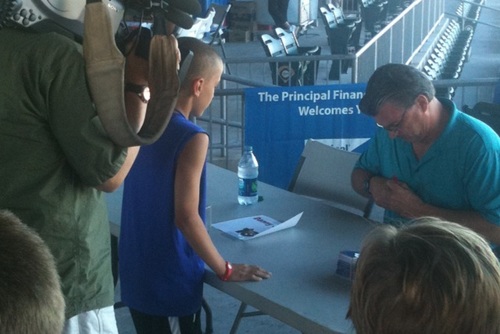 03/14/2013 10:14 AM
-
By CHRIS SOURK
tbonesbaseball.com

As Danny Jackson signed autographs at CommunityAmerica Ballpark during the 2012 season, he spoke fondly of his days with the Kansas City Royals as a dominant pitcher, and then with the T-Bones as a pitching coach in 2003.

"Nine years ago is hard to believe," Jackson remarked with a chuckle.

"It was a lot of fun down here, trying to work with the young kids trying to make it up and the other guys who got sent down and are trying to make it back up," added Jackson, who owns Incred-A-Bowl in Overland Park.

Jackson, who was a two-time All Star as well as two-time World Series champion, credited much of his success as a player to being able to effectively pitch inside. Being able to pitch inside is something that Jackson stressed to the T-Bones pitching staff.

"The first 20 games they probably hit 30 batters," Jackson says. "They ended up throwing very well. They dropped the team ERA from like 4.50 the year before, to about 3.50. Getting them to pitch more inside and more aggressively led them to being more successful.

"I think a lot of them did learn a lot from me. I think sometimes that I was a little harder on them because they didn't have a real good conditioning program. I was kind of a love-hate thing for me."

In 2013, another pitching hero from the 1985 Royals is scheduled to be at CommunityAmerica Ballpark. World Series MVP and Cy Young Award winner Bret Saberhagen is scheduled to be at the T-Bones game against Laredo on Friday, June 21.