News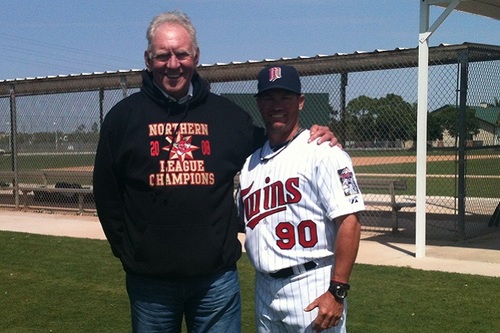 03/27/2013 10:12 AM
-
T-Bones owner John Ehlert visited recently with former Kansas City manager and long-time coach Tim Doherty at Hammond Stadium in Ft. Myers, Fla., spring training home of the Minnesota Twins. Doherty is in his first season as the hitting coach of the Twins' triple-A team in Rochester, N.Y., after spending the 2012 season as a coaching assistant with the Boston Red Sox at the big-league level.

Doherty was spotted performing what many T-Bones fans remember him doing: throwing hundreds of pitches during batting practice. Doherty stays in touch with his T-Bones replacement, Kenny Hook, on a regular basis, and says, "Kenny really knows what he's doing and will have the team competitive." And Doherty stays on alert for players he sees throughout the Major League circuit who could help the T-Bones.

One player he has seen several times this spring is his former T-Bones pitcher, left hander Kris Johnson, who played for Kansas City in 2011. Johnson had solid outings for the Pittsburgh Pirates this spring, but he was reassigned to the club's minor-league camp last week.

Doherty's family remains in the Kansas City area until his daughter graduates from Liberty High School. She is considering several colleges that are interested in her gymnastics skills.