News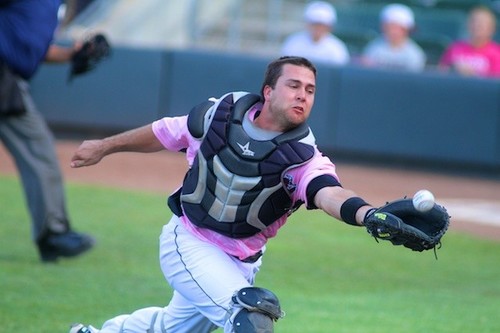 04/16/2013 10:17 AM
-
The T-Bones have announced they've re-signed Trevor Coleman and signed pitcher Kyle Roliard.

Coleman, a 6-foot-1, 220-pound catcher from Dripping Springs, Texas, originally signed with the T-Bones shortly after the start of the 2012 season. In 89 games with Kansas City, Coleman batted .262 with 83 hits, five home runs and 38 RBIs.

"Trevor is one of the top catchers in our league, and he's so intelligent in how he calls a game and handles our pitchers; you'd think he was a veteran," said T-Bones manager Kenny Hook. "The other part I'm excited about with him is that we've been working twice a week this offseason on his swing. I think he has more offensive ability than he's shown. Catching takes such a toll on a player's body that it's tough to be a productive hitter for a season but I think Trevor will be more aggressive with his swing and will be a better hitter this year. Frankly, he's as important of a piece of this team as anyone else on our roster."

The Seattle Mariners drafted Coleman, 25, in the ninth round of the 2009 MLB Amateur Draft out of the University of Missouri. He spent parts of four seasons (2009-12) in the Mariners organization, reaching triple-A Tacoma in 2011. Coleman was the Big 12 Freshman of the Year and a Freshman All-American in 2007. He was an All-Big 12 Honorable Mention selection after his junior year, 2009. That season he hit six home runs and had 32 RBIs.

Roliard, a 6-foot-5 and 190-pound left-handed pitcher from Spring, Texas, was selected by the Colorado Rockies in the 13th round of the 2011 MLB Amateur Draft following his junior year at Louisiana Tech. He appeared in 40 games during two seasons with the Rockies organization, going 1-1 with one save and a 4.17 ERA.

"Roliard is a deceptive-type pitcher who'll come in and compete for a left-handed spot in the bullpen," said Hook.

The T-Bones open their regular season on May 16 at Wichita, with the home opener at CommunityAmerica Ballpark on Saturday, May 18, against Wichita. For tickets, call the T-Bones Ticket Office at 913-328-5618.