News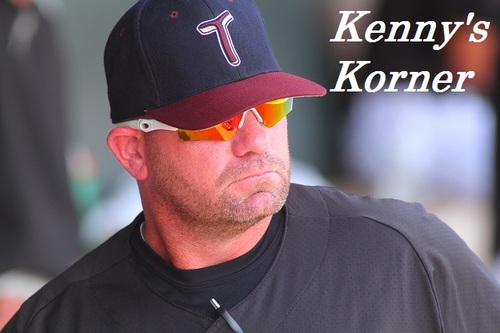 04/18/2013 8:39 PM
-
During the final month before the regular season, manager Kenny Hook is looking at various topics surrounding the T-Bones, from building the roster to spring training. This week focuses on the open tryout, which is May 3 at CommunityAmerica Ballpark. The following is Kenny's Korner, as told to Matt Fulks.
Two weeks from tomorrow (Fri., May 3) will be our annual open tryout. This is a chance for players to come out and try to make our team, or at least get noticed for either our club or another club down the road. In case you're thinking about coming to CommunityAmerica Ballpark for the tryout, I wanted to give you some things to think about during the next couple of weeks and on the day of the tryout.

In a tryout situation, initially coaches, managers and scouts are looking for the raw tools. Can you run? How's your arm strength? Do you have enough arm strength to play your position? If you're an infielder, how well do you handle the ball and how are your fundamentals? How good are you around the bag, if you're a middle infielder? From a hitting standpoint, we like outfielders and corner infielders who have some power in the bat. So do you have some pop or how well do you handle the bat? Do show enough of the raw tools that we want to take a longer look?

Then, if you show enough of those tools, it goes to the mental side. In a tryout setting, the one aspect you can't show and coaches can't see is how you perform in a live game situation. So, we're not around the guys to see how they handle pressure in game situations. But we can get an idea if you seem to be our type of guy mentally. For me, that means, why are you trying out? Are you driven to the point that you think you have a legitimate shot of playing for us or even beyond us? I want guys with high aspirations.

I'd like to think we have guys — in tryouts and on our current roster — who feel they can get picked up by an organization and make it to the big leagues. That seems far-fetched sometimes, but the gap between the Kansas City T-Bones and double-A, triple-A and the big leagues is not that large. If you believe you can play at a high level like that, that's great for us. That's going to show up in your daily work as a member of the T-Bones. Remember, guys do get picked up from this league, but those are guys who make that decision to show an organization that they deserve to be there. The guys who are playing for another reason other than to better their career might not be a good fit. I think it's imperative in this league that guys go about their daily work on and off the field as if they have something to prove. There are various reasons guys are in independent ball. Whatever that reason, guys should want to show that they should be back on track with an organized team. Whether you want to call if having a chip on your shoulder or being hungry, it is possible that you can get picked up. How you perform daily will affect whether that opportunity comes your way. So, coming into the tryout, can you show us that mentality in the way you conduct yourself?

Last season, Beau Stoker made our roster coming out of the tryout. We had a need and Beau filled it. But, I want you to understand this about the open tryout: very seldom do you see a guy in a tryout and automatically sign him. The way our league is constructed and the way rosters are set up, something might not happen during the tryout or in the few days after, but it still could happen. Once we see a guy, we can keep him in mind and contact him during the season if we have a hole on the roster. We're going to be more likely to pick someone up that we've seen in action and met, as opposed to just a name that someone passes along. At the same time, I mentioned earlier about being noticed for another team. Managers in this league talk. I've known several managers in this league for years, and consider them to be friends. It's possible that I might be talking with one of those guys, and they mention a need they have on their roster. If we saw a good player in our tryout that just didn't fit our roster for whatever reason, I can pass along that player's name and information to another manager. So don't go into the open tryout thinking it's like trying to make a high school or college team — that if you don't impress us that one day and make our roster that you're finished. It's not a last-resort. It's a chance to get noticed.

I hope to see you on the morning of May 3 at CommunityAmerica Ballpark.