News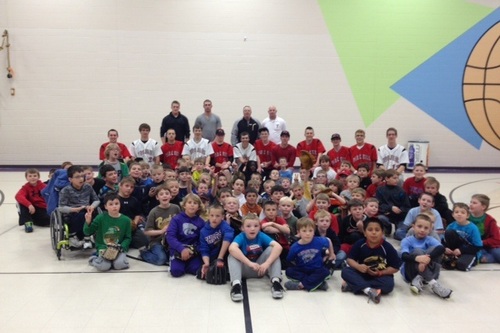 04/30/2013 10:00 AM
-
As tryouts and spring training for the 2013 season get closer, T-Bones manager Kenny Hook is providing weekly thoughts on a variety of topics. In the first of two installments this week, Hook talks about reading to a group of elementary school students on April 23. This installment of Kenny's Korner was told to Matt Fulks.

Last week I was asked to read to and lead a baseball clinic for students at Hawthorn Elementary School in the Park Hill School District. Much like the T-Bones Reading Program (which you can find out about here), Hawthorn has a great literacy effort, "Boys Hit 4 Literacy." Our bench coach Bill Sobbe, who's been a coach, teacher and principal in the Park Hill School District for more than 10 years, along with pitchers Derek McGowan and Aaron Meade, and I had a great time with about 80 students. We were introduced to the kids and then talked about the importance of reading and education, read to the kids and, finally, held a clinic.

The cause is important. Even for professional athletes, education is vitally important. So we discussed with the kids the correlation between reading, getting good grades and being eligible to play whatever sport. As I can tell you from my days as a recruiter, the academic side is a big reflection on you as a player and as a person. I'm not an exceptional reader, but I read and use the skill daily, obviously. Kids don't always understand its importance in every day life. Reading and school won't always come easy, and for some students it'll never be easy, but if you're working hard to make good grades, you're learning. You're learning lessons that are good for school, of course, but also for life.

After talking to the kids about reading and education, Meade and McGowan traded off reading "You Never Heard of Sandy Koufax?!" by Jonah Winter and Andre Carrilho. They seemed to enjoy reading to the kids. For me, it was neat to see their interaction with the students.

We ended our time at Hawthorn with a clinic, almost set up like a mini-spring training. We had stations that worked on fielding a groundball, the mechanics of throwing, fly ball drills, hitting off a tee, and baserunning. We had a lot of help from the current Park Hill baseball team, who helped run the stations. Bill Sobbe was huge in that he kept everything moving, while I walked around each station and talked with the kids.

Obviously, any time you can do something like that, you want to do it. If I can do something to benefit kids, especially when they sign up to be a part of it, we want to do a meaningful event. I hope the students and teachers felt we were successful. I know we had a great time. This is something I have always enjoyed.