News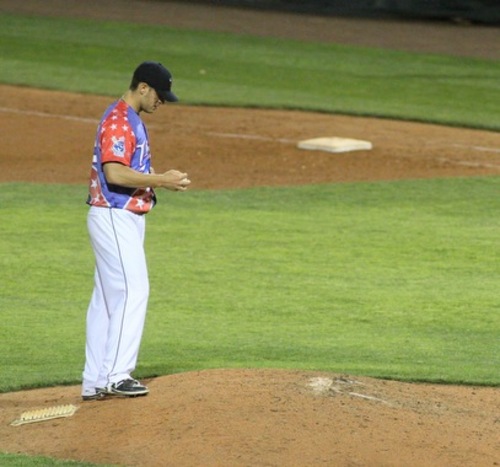 08/06/2013 10:04 PM
-
GARY, Ind. – Solid starting pitching and timely hitting helped the Kansas City T-Bones even the three-game series with a 4-1 win over the Gary SouthShore RailCats on Tuesday night.
Jairo Perez singled home Kennard Jones in the first inning, giving the T-Bones a 1-0 lead. Kansas City would add two additional runs in the second inning with back-to-back two-out RBI singles from Matt Padgett and Perez to extend the lead to 3-0. Kansas City's one-through-four batters -- Jones, Justin Bass, Padgett and Perez -- all had two hits apiece.
In the fifth inning Perez sent home Bass on a double, giving him his third RBI and Kansas City their fifth and final run of the evening.
The early run production was all that T-Bones starting pitcher Lucas Irvine (6-4) needed as he allowed just five hits and no runs through seven-plus scoreless frames. Irvine struck out eight and walked none, and his postgame ERA of 2.83 is the second-best of any active pitcher in the American Association.
Gary SouthShore's only run came in the bottom of the eighth inning when Mike Massaro hit an RBI single scoring Adam Klein from second base. With the single, Klein continued his on-base streak to 31 consecutive games.
The RailCats' starting pitcher James Adkins (1-3) took the loss as he allowed four runs in five innings. The loss ended Gary's five-game winning streak.
Kansas City takes on the RailCats at 7:10pm on Wednesday night with a chance to win the three-game series. A win tomorrow would also secure a winning road trip for the T-Bones. Wednesday's projected starter Ethan Cole (0-5) looks to pickup his first win of the season for Kansas City.