News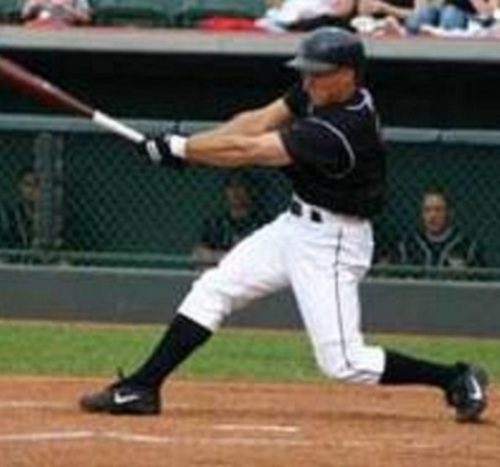 08/10/2013 6:36 PM
-
Rick Prieto was one of the top players in T-Bones history. Prieto, who played during 2003-05, remains near the top of several club offensive and defensive categories. (And, as you'll read, he was one of four T-Bones players to have a bobblehead while he was playing.) Prieto was at CommunityAmerica Ballpark on Saturday night to throw out a first pitch.

You were here for three years, from 2003-05, back when the club was getting its feet on the ground. What are some thoughts you had about playing here in Kansas City?
Rick Prieto: I enjoyed it. You know, the first three years the stadium was just getting built… the fire was here, just to have a new team in this area and it's really blossomed. It's nice to see a huge fan base, a lot of loyal fans. When I drove in I saw a lot of tailgating, a lot of cool stuff. It's really cool to see the transition in the eight years since I've been here.

It has been eight years… what would you say is the biggest change since you left, now that you're back here at the stadium?
RP: Well, they added some stuff -- actually, I was here not too long ago and they had bleachers [in left field] and they got rid of them. (The bleachers were removed after Sporting Kansas City left CommunityAmerica Ballpark.) So they went back to the old-school, the way they used to have it. It has the same feel, the atmosphere is the same. I love the atmosphere here because the fans sit right next to you on the field. It's a little more fan friendly here. It's a great environment. Now that I have kids, I can see that is a really good environment to enjoy with your kids.

Now, Rick, you were one of four T-Bones players to have a bobblehead mocked after your likeness. Tell us a little bit about the Rick Prieto bobblehead that was given to T-Bones fans.
RP: The original bobblehead, when they talked to me about it, they wanted an original picture of me so they could draw it up. The first one that they made looked nothing like me. So they sent it back in and we ended up redoing it. I'm not so sure it looks like me but it's got my jersey and it's something really cool to have. Just to be honored that way was really special.

The T-Bones were the last professional team you played for, and despite that, you were able to rack up 10 triples in 2005 -- the second highest number in team history. How were you able to maintain your speed and put up a number like that late in your career?
RP: A lot of hard work. I spent a lot of time in the gym in the off-season. I was diagnosed with a knee problem when I was in high school. I had a diseased bone in my patella and I always had to really maintain that -- make sure to watch that and make sure it was healthy. So for me, the preparation in the off-season was big for me and big for my career.

It's been a while since you played professionally (2005), so what are you up to now?
RP: Right now I own my own batting facility, Prieto's Power Alley. We're running out of two locations, one in Richmond, one in Carrollton, Mo., it's about an hour of the city going east. That's pretty much my full time gig right now and I love it. A lot of kids, and we're growing every day. I've got to the point where I've maxed out what I can do and need help. (Laughs) That's been the biggest thing for me is growing this business, and it's really blossomed and become something really good. I love it. I also have two small kids, I wanna make sure I don't forget about them. I got married and have my two great boys, four and two years old. Love 'em to death.

Have an excellent night, welcome back. Hope you enjoy it from a fan's perspective.
RP: Thank you, I love this atmosphere. It's good to be back. It's a good feeling.

The previous interview was conducted by Danny Jones of tbonesbaseball.com on August 10, 2013.