News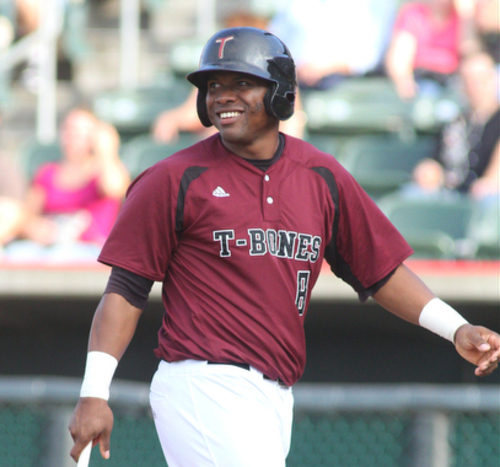 08/17/2013 10:17 PM
-
WINNIPEG, Canada – The Kansas City T-Bones got two clutch home runs from Luis Rivera and came back from a 6-1 deficit as they beat the Goldeyes 8-6 on Saturday night.

With the game tied at 1-1, the Goldeyes took control in the bottom of the fourth inning, scoring four runs on five hits — and two outs — including a two-run double from Luis Allen, as the Goldeyes took a 5-1 lead. Winnipeg would get a solo home run from Josh Mazzola and extend its lead to 6-1 after six innings.

The T-Bones, winners of four straight, would not surrender, though, scoring three runs in the seventh inning capped by a two-out, two-run homer by Luis Rivera that brought the T-Bones to within a 6-4 deficit. In the top of the ninth inning with former Kansas City Royals farmhand Patrick Keating (4-2) on the mound, Felix Molina sent a perfect two-out bunt single down the line that gave Kansas City one last chance. Rivera laced his second home run of the game over the left-field fence, tying the contest at 6-6.

Chad Robinson (3-3) shut the Goldeyes down in the ninth. And after Jairo Perez drove in two with a one-out double in the top of the 10th, Robinson slammed the door for good in the bottom of the 10th for Kansas City. The win assures Kansas City its second straight series victory.

This was the third straight game of its four-game winning streak in which Kansas City scored eight runs.

The T-Bones (36-50) look for the three-game sweep of Winnipeg (44-39) Sunday at 1:30 p.m.