News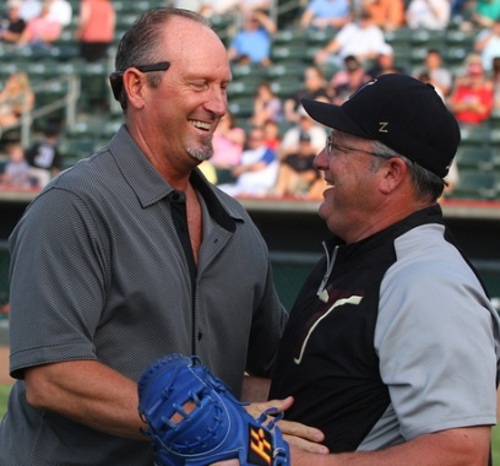 09/18/2013 6:39 AM
-
In a season full of promotions and special guests, one of the highlights from the 2013 T-Bones season was "80's Theme Night," which included an appearance by 1985 World Series MVP Bret Saberhagen. In 1984, Saberhagen made his Major League debut at the age of 19. The next season, en route to becoming the World Series MVP and the youngest pitcher in Major League history to win a Cy Young Award (as well as the first Royals pitcher to win the award), Saberhagen led the club in wins (20), complete games (10) and strikeouts (158). During "80's Theme Night" at CommunityAmerica Ballpark, Saberhagen threw out a first pitch, signed autographs in the Meat Locker and spent a few minutes chatting with Matt Fulks, the club's Director of Media Relations. Here is part of that conversation.

Matt Fulks: First off, thanks for coming out here tonight. We have a wonderful crowd just to see you.

Bret Saberhagen: Thank you, although I hear it's outstanding every night, so I don't know that I had anything to do with it. It's great to be here. Great ballpark. And it's always great to get back to Kansas City. I get to reminisce with a few old buddies of mine that are in around the ballpark so it's great.

MF: And this is your first time here, isn't it?

BS: Yes, it's my first time. I've driven by the area on 435 and seen the (Kansas Speedway) and all the development here. Kansas City's been rocking and rolling with the (Major League Baseball) All-Star Game here last year — now we just need to get the Royals back to the playoffs.

MF: Trying to imagine being in your shoes in 1985, young, relatively inexperienced at the big-league level, about to have a child — how in the world did you stay so focused?

BS: The guys that were around us, we were more of a family than anything else. We did things together on the weekends during the offseason. We had barbecues and such. We were a close-knit group. We didn't have the best team on paper, but we went out and played baseball. It was easy to focus when you had guys who were pulling for one another and being friends away from the field and wanting to do well for each other.

MF: Obviously winning the MVP was huge, but are there a couple moments that define the '85 World Series for you?

BS: I think what helped us, being down three games to one to St. Louis, is that we'd faced something similar to Toronto in the playoffs. When we got into the same situation in the World Series, we felt we'd win it. There were so many great moments in the I-70 Series. My mom told me about the Governor's Train that ran from Kansas City to St. Louis. She got a chance to ride on that. She said it was mainly blue at the start, and then a mix of blue and red in the middle, and by the time it got to St. Louis it seemed like it was all red. That was just a very special time. Being that young and being in the playoffs the previous year, my first year, when we lost to the Detroit Tigers, it seemed like it was going to happen year after year.

MF: The way you pitched and the way the team played, did it raise expectations in 1986 and beyond?

BS: Yeah, it did. I came out in spring training in '86 and tried to do too much too soon, to live up to the expectations. I ended up having a bum shoulder for part of that year. It didn't help out the team being on the disabled list. That was my toughest year, trying to live up to the expectations.

MF: The World Series MVP, the no-hitter, two Cy Young awards. Is there one accomplishment that stands out above the rest?

BS: The World Series. It's the toughest thing to achieve. You can have a good year, but to win the Series, 25 guys have to go out and play good baseball. The Cy Youngs are great and talked about more than the World Series, but that's something that takes a team to accomplish. Looking back on my career, that's something I'll always cherish.

MF: Bret, we appreciate your time and we appreciate you coming out to CommunityAmerica Ballpark. We hope to see you again sometime.

BS: Absolutely. It's been a great time.