News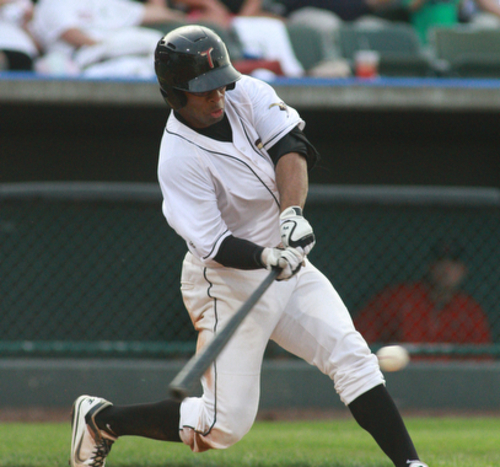 12/31/2013 11:19 AM
-
KANSAS CITY, Kan. – The Kansas City T-Bones announced they have acquired outfielder Byron Wiley from Florence of the Frontier League in exchange for Justin Bass.

Wiley, 27, who's 6-foot-1 and 200 pounds, has played four professional seasons since the Cincinnati Reds selected him in the 22nd round of the 2008 MLB June Amateur Draft out of Kansas State University. He reached high-A with the Cincinnati and Arizona organizations. Following two years out of baseball, Wiley is coming off his best pro season, batting .290 with 91 hits, 15 home runs, 53 RBIs, and an All-Star selection for Florence in 2013.

"Byron is an athletic outfielder who can play all three outfield positions," said T-Bones manager John Massarelli. "He's a left-handed bat with some pop and excellent strike-zone discipline. He's a nice addition for us."

Bass, 24, who joined the T-Bones prior to the 2012 season, was hampered by injuries in 2013, batting .273 with 54 hits, four homers and 21 RBIs in 49 games. Although the majority of his time defensively with Kansas City was spent in the outfield, the Los Angeles Angels of Anaheim drafted Bass as a second baseman in 2007 before converting him to an outfielder.

"Justin feels the best way to get back to affiliated ball is by playing second base, and after talking with some scouts, they agreed," Massarelli said. "With our roster makeup as it stands, we couldn't make that commitment, so this move should help him excel offensively and give him a chance to see if he can play second base at a high level.

"This is a good trade for both clubs and for both individuals involved."

The T-Bones open the 2014 regular season at home on May 15 against Lincoln.