News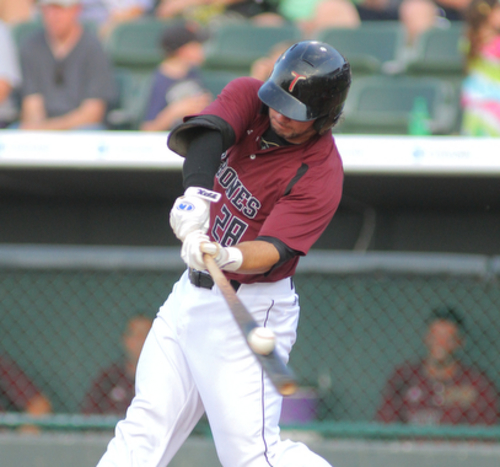 08/17/2014 8:31 PM
-
By Shane Jackson
tbonesbaseball.com
KANSAS CITY, Kan. – The T-Bones saw a four-run ninth inning lead vanish, falling 6-5 to Gary SouthShore in 12 innings Sunday night at CommunityAmerica Ballpark.
With the T-Bones leading 5-1 going into the ninth, the RailCats broke through against closer Kris Regas with four runs on three hits and two walks, tying the game at 5-5.
The RailCats manufactured the winning run in the 12th inning. Drew Martinez got on base with a lead-off single and was bunted over to second. After reaching third on a groundout, Martinez scored the eventual winning run on an infield single by Josh Romanski.
Until the ninth inning, the T-Bones cruised. Bryan Sabatella extended his hit streak to 11 consecutive games with a leadoff single in the bottom of the second. He later scored on an RBI single from Brian Erie that gave Kansas City an early 1-0 lead.
Kansas City extended that lead the next inning. Danny Richar led off the third with a single. And then, after Ray Sadler singled with one out, Nick Schwaner crushed a three-run home run to center field, giving the T-Bones a 4-0 lead.
The RailCats got on the board with a run in the sixth. Danny Pulfer drew a leadoff walk and was singled home on a one-out hit by Ryan Babineau.
The T-Bones (38-47) now get set to begin a three-game series with Amarillo on Monday night at 7:05. Tickets are available by calling the Providence Medical Center Box Office at CommunityAmerica Ballpark at 913-328-5618.
-- T-Bones --
LINK TO BOX: http://www.pointstreak.com/baseball/boxscoretext.html?gameid=178162