News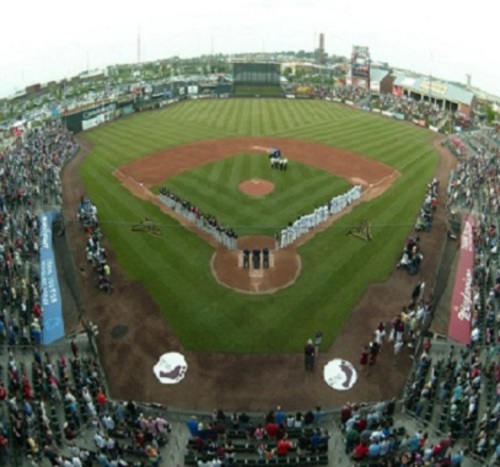 10/31/2014 8:45 AM
-
KANSAS CITY, Kan. – The Kansas City T-Bones have announced their 100-game schedule for the 2015 season.

The biggest change in 2015 is that the season will start and end one week later than it did in 2014. Last season the club opened on May 15, which was the earliest Opening Day in T-Bones history.

"I am glad for next year's later Memorial Day," said T-Bones president Adam Ehlert. "That is typically a great opening weekend, but as our hearty fans will attest, starting earlier like we did last year made for chilly baseball in May."

The T-Bones open the season with a three-game series at CommunityAmerica Ballpark against rival Lincoln on Memorial Day weekend, May 22. That series, which is part of a six-game homestand, concludes with fireworks following Sunday night's game. After having Memorial Day off, the T-Bones will finish their opening homestand with three games against Sioux City.

As has become a tradition for the T-Bones, the team will be at home on July 4 as it plays host to Gary SouthShore as part of a seven-game homestand.

"Memorial Day and Fourth of July are two traditional baseball holidays," T-Bones vice president/general manager Chris Browne said. "We're thrilled to host games on these weekends with our award-winning fireworks. It's a great way to show off America's national pastime!"

The T-Bones will have two eight-game homestands, their longest in 2015. The first is July 19-26 against Gary SouthShore and Winnipeg. The second is the home finale, Aug. 27-Sept. 3, against St. Paul and Laredo. Although the T-Bones don't travel to every city in the league, all 12 American Association teams will visit CommunityAmerica Ballpark, including the newest addition, Joplin, which is one of three teams — including Amarillo and Fargo-Moorhead — that will come to Kansas City twice. The Blasters are scheduled to be at CommunityAmerica Ballpark for three games during Aug. 5-7 and three during Aug. 21-23.

The T-Bones do not host any interleague games with the Can-Am League, but Kansas City will travel to the northeast for 10 games against Can-Am teams from July 22-Aug. 1. The American Association will announce at a later date the T-Bones' opponents for those games.

The month-by-month breakdown of the 50 home games: May (6), June (9), July (15), August (17) and September (3).

Full season and nightly promotions will be announced this winter.

Full and half-season ticket packages, as well as mini-plans are on sale now. Group ticket packages will be available later this year. Single-game tickets will go on sale to Wyandotte County residents on March 24, 2015, and to the general public on March 26. Parking for T-Bones games will remain free in 2015. For more information or to secure your season tickets for next season, call 913-328-5640. Stay tuned to www.tbonesbaseball.com and the T-Bones' Facebook page for updates throughout the offseason.

The complete 100-game schedule can be seen here.