News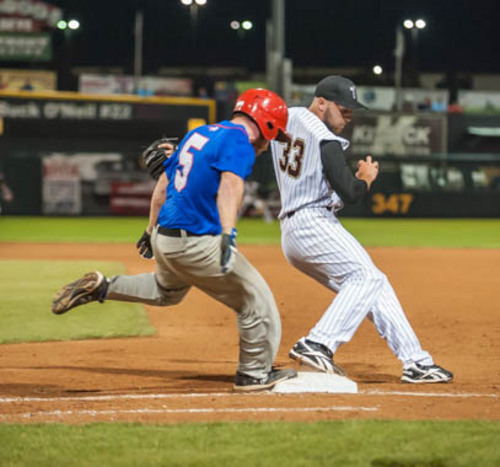 06/06/2015 9:30 PM
-
KANSAS CITY, Kan. – After a rough start by Kansas City pitcher Joe Van Meter, the Kansas City T-Bones dropped the final game of a three-game series, 6-3, in front of 7,249 fans at CommunityAmerica Ballpark on Saturday night.
Amarillo's offense jumped on Van Meter (1-3) early, scoring four runs in the first inning. With the Thunderheads leading 1-0, Jason Martin and Rene Leveret hit back-to-back home runs. Martin's was a two-run homer to left, while Leveret's cleared the left-field wall and went into the parking lot.
In the fourth, Leveret launched another home run off Van Meter to almost the exact same spot, giving Amarillo a 5-0 lead. Later in the inning, Taylor Smart knocked in Jordan Guida, and knocked Van Meter out of the game.
Kansas City's first run came in the bottom of the fifth inning as Kyle Robinson singled past Amarillo third baseman Smart, scoring Ryan Cavan, who also had singled past Smart and stole second.
The T-Bones cut Amarillo's lead in half during the bottom of the seventh inning. Brian Erie and Cavan each singled and scored on groundouts to the right side of the infield by Jake Blackwood and Nate Tenbrink, respectively, cutting Amarillo's lead to 6-3.
Van Meter allowed six earned runs on seven hits, giving up his first three home runs of the season in 3 1/3 innings pitched. Van Meter, who leads the T-Bones in strikeouts, added three more, bringing his total to 17.
The T-Bones will begin a three-game series against Fargo-Moorhead on Monday night at 7:05 at CommunityAmerica Ballpark. Tickets are available by calling the Providence Medical Center Box Office at CommunityAmerica Ballpark at 913-328-5618.