News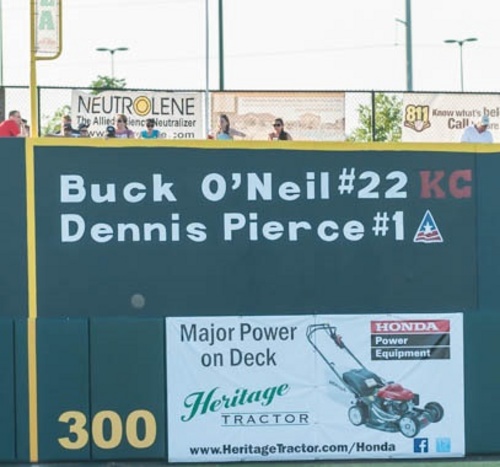 06/10/2015 7:00 PM
-
By: ALLISON McBRIEN
tbonesbaseball.com
KANSAS CITY, Kan. — In front of a sold-out crowd of 10,143 Tuesday night, Adam Ehlert, the president of the Kansas City T-Bones, unveiled a new addition to CommunityAmerica Ballpark. On the left field wall, Dennis Pierce's name was added to commemorate his contributions to the T-Bones, as the former CEO of the CommunityAmerica Credit Union.
Pierce recently retired after 22 years with CommunityAmerica.
"His tenure there certainly predates the T-Bones relationship with the Credit Union," Ehlert said, "but, he's been absolutely critical to our success, himself personally and the involvement of the credit union."
The relationship between the T-Bones and CommunityAmerica Credit Union began in 2003, the team's first season in Kansas City. Ten years later, the two parties agreed on renewing the naming rights to CommunityAmerica Ballpark. With the previous success of the relationship, the agreement was natural. Since 2003, more than three million fans have walked through the gates at CommunityAmerica Ballpark for quality, family-fun entertainment.
"We couldn't be more proud to put Mr. Pierce's name up on the wall," said Ehlert, who also presented Pierce with a personalized jersey and embroidered golf bag. "He's also a really nice gentleman and that counts for something, too."
"It's bittersweet seeing Dennis retire because he meant so much to us, but we know we, along with the credit union are in great hands with Lisa Ginter taking over as of a few months ago."
Dennis Pierce's name is located directly below Buck O'Neil's name on the left field wall at CommunityAmerica Ballpark.