News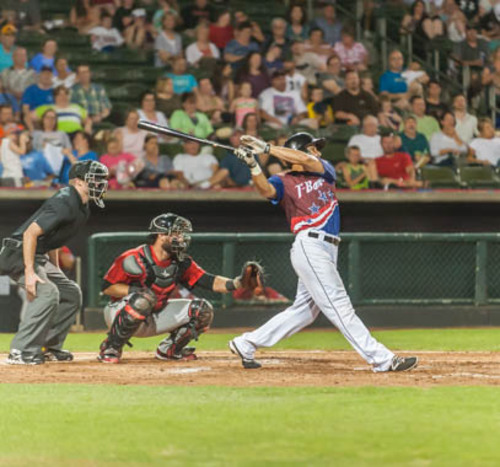 06/20/2015 10:00 PM
-
KANSAS CITY, Kan. – Run production seemed to come at will for the Kansas City T-Bones on Saturday night, as they cruised past Wichita 13-8 in front of 8,022 at CommunityAmerica Ballpark.
After a first inning that included three runs for Kansas City off doubles from Jake Blackwood and Kyle Robinson, the T-Bones blistered hits all over the field for the remainder of the game, reaching a total of 15 on the night. Robinson ended up going three-for-three in the game, and picked up his 300th career hit.
Kansas City hit three home runs in the game, beginning with Joe Rapp's solo homer leading off the second inning that gave the T-Bones a 4-0 lead. Then, after the T-Bones added two runs in the third, Nate Tenbrink lined a home run to right off Wichita starter Tim Brown (3-1) that scored Vladimir Frias and gave Kansas City an 8-2 lead. The big blow came in the sixth when Adam Bailey launched a grand slam to right that put the T-Bones ahead by 10, 13-3. The grand slam was the first homer of the season for Bailey, who had four hits and scored three runs.
T-Bones starter Bobby Doran (3-1) spread five hits and two earned runs in a hard-fought 5-inning start. Doran struck out a season-high seven batters and walked four.
With the win, Kansas City (10-14) has won four consecutive series. The T-Bones and Wingnuts (16-11) are scheduled to finish their three-game series Sunday afternoon at 1:05 with Kansas City going for its first sweep of the season. Tickets are available by calling the Providence Medical Center Box Office at CommunityAmerica Ballpark at 913-328-5618.