News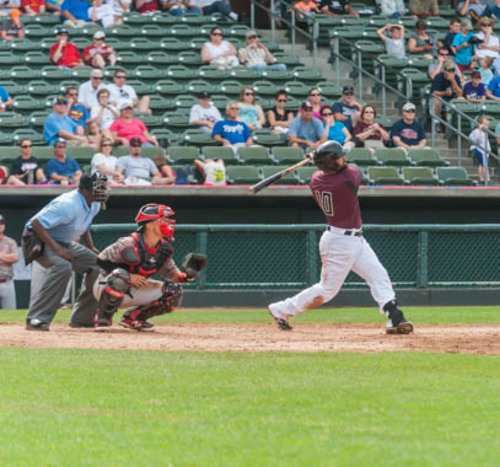 06/21/2015 4:31 PM
-
KANSAS CITY, Kan. – With the help of late-inning heroics from Jake Blackwood, the Kansas City T-Bones completed a three-game sweep of the Wichita Wingnuts with a 5-4 victory at CommunityAmerica Ballpark on Sunday afternoon.

Wichita's offense jumped on T-Bones starter Casey Barnes early, taking a 1-0 lead in the second inning after former T-Bones third baseman T.J. Mittelstaedt, who singled, went to third on a single by Dustin Geiger. Mittelstaedt scored on the throw to second base on a Geiger stolen base. That was the only run that Barnes gave up in four innings of work. Barnes struck out two, while giving up five hits and no walks.

One night after scoring 13 runs on 15 hits, Kansas City's bats were silenced by Wichita starter Jason Van Skike, who allowed only two hits and one run in 6 1/3 innings.


That all changed in the bottom of the eighth inning against the Wingnuts bullpen. With Kansas City trailing 4-1 with recently signed right fielder Jacob Hayes and Nate Tenbrink on base, Blackwood, a Kansas City native, blasted a three-run home run over the left field wall against Wichita closer Matt Nevarez (1-1) that gave the T-Bones their first lead of the game, 5-4.

Kris Regas (2-2) pitched the final 1 2/3 innings for the win, while Fernando Hernandez (1) recorded the final out of the game for the save. Rain halted play for 33 minutes during the bottom of the second but that didn't seem to deter the Father's Day crowd of 4,684.

The T-Bones will begin a 10-game roadtrip to the Can-Am League spanning the next 11 days. Kansas City will return to CommunityAmerica Ballpark on Friday, July 3rd for a series against the Gary SouthShore RailCats. Tickets are available by calling the Providence Medical Center Box Office at CommunityAmerica Ballpark at 913-328-5618.