News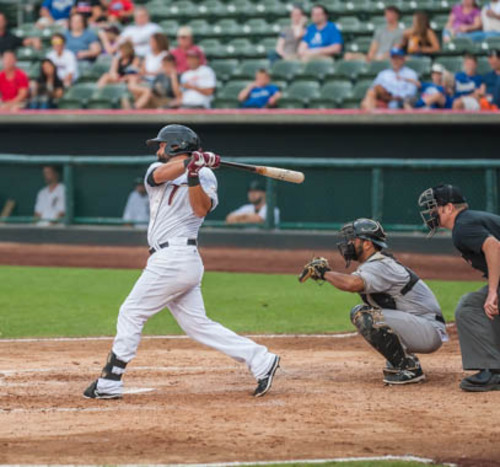 08/05/2015 10:22 PM
-
KANSAS CITY, Kan. — The Kansas City T-Bones swept the Joplin Blasters in a doubleheader Wednesday night at CommunityAmerica Ballpark, winning the first game 5-3 and then taking the nightcap, 7-3.
The T-Bones and Blasters started the night by finishing a game that was suspended due to rain on June 16 in Joplin, Mo., in the bottom of the first inning.
Kansas City struggled offensively against Joplin starter Matt Swilley, who struck out five and gave up only two hits through five innings. Trailing 1-0 after a Joplin home run in the fourth, the T-Bones broke through in the sixth inning, shortly after Swilley left the game with an undisclosed injury. Sergio Leon reached on an error and then Robby Kuzdale, who got Kansas City's first hit of the night in the third inning, launched a two-run home run to left off reliever Sam Agnew-Wieland (3-2) that gave the T-Bones a 2-1 lead.
The timely hitting for Kansas City continued in the seventh inning with Brian Erie's lead-off single to right field. Three batters later, Jake Blackwood singled to center, scoring Erie and giving the T-Bones a 3-1 lead. The single gave Blackwood his 1,000th career hit. He has achieved four career milestones this season: 1,000 hits, 100 home runs, 200 doubles and 500 RBIs.
In the second game, similar to the first, the T-Bones went hitless for the first three-plus innings. Trailing 2-0 against the Blasters, the fourth inning gave new light for Kansas City, which batted around and ended the inning with six runs and five hits, including singles from Kuzdale, Nate Tenbrink, Blackwood and Brent Peterson. The big blow came from Sergio Leon, whose single to left scored Alex Marquez, who reached on an error, and Peterson. Kansas City finished the inning with a 6-2 lead.
The T-Bones added a final run in the bottom of the sixth inning after Leon's single to center scored Peterson, who got on base after a single to right.
Dustin Loggins made his T-Bones debut, giving up six hits and three runs, while striking out four in 4 2/3 innings. Derek Loera (3-1) earned the win after not allowing a baserunner and striking out one in 1 1/3 innings pitched.
Due to the June 17th game being postponed in Joplin, the T-Bones (38-27) and Blasters (36-31) are scheduled to play two seven-inning games Thursday night at and (approximately) . Tickets are available by calling the Providence Medical Center Box Office at CommunityAmerica Ballpark at 913-328-5618.