News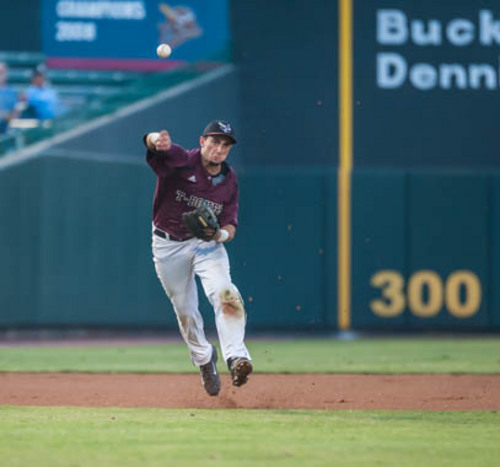 08/06/2015 9:35 PM
-
KANSAS CITY, Kan. — Joplin's strong defense, helped the Blasters sweep the Kansas City T-Bones in a doubleheader Thursday night at CommunityAmerica Ballpark, winning the first game 5-2 and the second 6-2. It was the second straight doubleheader between the two teams.
The first game started out rough for T-Bones' starting pitcher, Mike Nannini, who gave up a walk, a single and a double, and saw the Blasters take a 2-0 lead in the first inning.
Joplin got two big home runs off Nannini, and both came with two outs. In the third inning, with two outs and Maikol Gonzalez on second base, former T-Bone Jairo Perez hit a home run to left center that gave the Blasters a 4-1 lead. And then, with two outs in the sixth, Jake Taylor hit a solo homer that put Joplin ahead, 5-2.
Kansas City first got on the scoreboard in the second inning against Joplin starter Nestor Molina (7-4). Jacob Hayes saw to that with a single to center that scored Adam Bailey, who got on base with a single to right. Alex Marquez, batting .333 with the bases loaded this season, found himself in the same situation in the fourth inning. Marquez hit an infield single to shortstop, scoring Jake Blackwood and making it a 4-2 game.
In the nightcap, Kansas City starter Steve Sarcone (0-2) pitched three perfect innings before giving up a hit in the fourth. The Blasters went on to score in that inning before bursting through in the fifth. Joplin got three singles in a row from Joe Coyne, Oscar Mesa and Steven Tinoco. Omar Luna, who got on base after getting hit by a pitch, scored on Tinoco's single, making the score 2-0. The big blow came from Maikol Gonzalez, who hit a two-run single that gave the Blasters a 4-0 lead. That was the first of two consecutive innings in which the Blasters sent eight batters to the plate. In the sixth, the Blasters added two more runs on three hits, including RBI singles from Mesa and Tinoco.
The T-Bones got their first runs of the game in the sixth inning. After Jake Blackwood was hit by a pitch by reliever Victor Capellan, Adam Bailey blasted a home run over the left field wall, making it 6-2. Bailey now has a team-leading 51 RBIs.
Sarcone allowed five hits and four earned runs, and struck out two in 4 2/3 innings pitched.
Kansas City and Joplin played a doubleheader Wednesday, also, with the T-Bones sweeping the Blasters, 5-3 and 7-3.
The T-Bones (38-29) and Blasters (38-31) are scheduled to play the final game of the five-game series Friday night at . Tickets are available by calling the Providence Medical Center Box Office at CommunityAmerica Ballpark at 913-328-5618.