News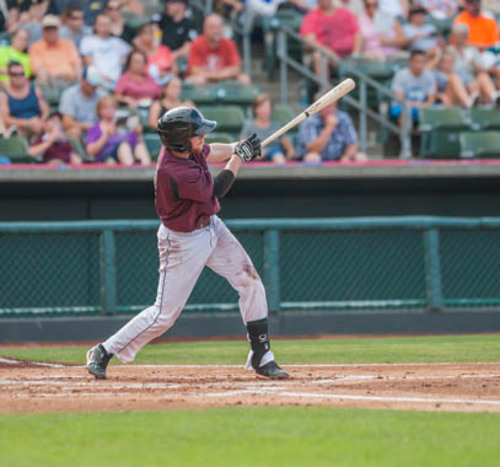 08/09/2015 7:27 PM
-
KANSAS CITY, Kan. – Starting pitcher Drew Gay had a rough first outing for Kansas City as Fargo-Moorhead scored 10 runs in two innings and ended up beating the T-Bones, 16-4, on Sunday at CommunityAmerica Ballpark.
Fargo's offense jumped on Gay, whom Kansas City acquired from St. Paul on Friday, with a four-run first inning. After a lead-off walk by Zach Penprase and a double by Drew Muren, the RedHawks scored their first two runs on a passed ball and a ground out. Charlie Valerio then blasted a two-run home run over the right field fence, giving Fargo a 4-0 lead.
Kansas City trailed the rest of the game, unable to fight back offensively, but, more importantly, the T-Bones were unable to stop Fargo's offense. After Kansas City scored single runs on an RBI single by Adam Bailey and an RBI double by Brent Peterson in the first and second innings, respectively, the RedHawks added six more runs in the fourth. The RedHawks sent 10 batters to the plate. After Joe Bonfe led off the inning with a double against Gay and scored on a sacrifice by Taylor Oldham, Ryan Pineda scored on a wild pitch, and then Michael Wing singled to left, scoring both Oldham and Drew Muren, who walked against reliever Josh Tols. Luke Bailey then knocked a two-run home run off Tols over the left field wall that gave Fargo a 10-2 lead.
Gay allowed seven runs on five hits, including Valerio's home run in the first. He also walked three and struck out four in 3 1/3 innings pitched. Tols didn't fare any better, giving up six runs on five hits, including the home run to Bailey, in 2 2/3 innings.
The RedHawks extended their lead 13-2 in the sixth as Valerio drove in Muren and Luke Bailey on a two-out double to deep left, and Bonfe drove in Valerio on a single up the middle.
The T-Bones threatened in the bottom of the sixth as Brent Peterson faced a no-out, bases-loaded situation, but grounded into a double play and was only able to drive in Adam Bailey, making the score 13-3. Alex Marquez then hit an RBI single to center, scoring Robby Kuzdale, who had singled, making the score 13-4.
Luke Bailey hit his second home run of the game, a solo shot off reliever Mike Nannini, that gave Fargo a 14-4 lead. Penprase's two-run double drove in the last two runs of the night, making the final score 16-4.
The T-Bones (39-31) are scheduled to play the final game of the three-game series against Fargo-Moorhead (24-48) on Monday at 7:05 p.m. Tickets are available by calling the Providence Medical Center Box Office at CommunityAmerica Ballpark at 913-328-5618.