News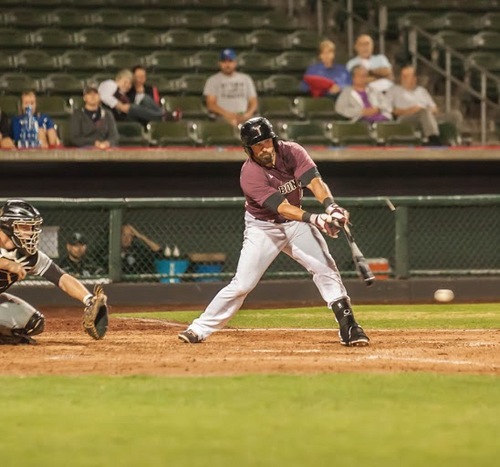 08/27/2015 9:56 PM
-
KANSAS CITY, Kan. – The Kansas City T-Bones, fighting for a postseason berth, beat one of the league's best teams Thursday night, as they knocked off the St. Paul Saints, 5-4, beginning a four-game series at CommunityAmerica Ballpark.

In a game that saw five lead changes, the T-Bones sealed the win in the bottom of the eighth against St. Paul's Dylan Chavez (1-1). Starlin Rodriguez led off the inning with a double over the head of right fielder Angelo Songco. After Nate Tenbrink put down a perfect sacrifice bunt toward first that advanced Rodriguez to third, Jake Blackwood grounded the ball to center field and gave the T-Bones a 5-4 lead.

The perfect sacrifice was part of a perfect night for Tenbrink, who went two-for-two with two RBIs. Those came in the third inning, when his two-run double brought in Alex Marquez and Rodriguez, and gave the T-Bones a 2-1 lead. Tenbrink is now 12-for-15 with five doubles in his last four games. His average has gone from .301 to .320 since Sunday.

After Kansas City took the lead in the bottom of the eighth, T-Bones closer Fernando Hernandez faced one over the minimum in the ninth as he got his 20th save of the season. Evan DeLuca (1-0), who pitched in the eighth for the T-Bones, got the win.

The teams exchanged leads during three innings, before Kansas City got back-to-back home runs by Adam Bailey and Kyle Robinson in the bottom of the sixth, and went ahead 4-3. The Saints tied the game, though, in the top of the seventh after Ian Gac was hit by a pitch and eventually scored on a double play grounded into by Joey Paciorek.

With the win, the T-Bones remain 2 1/2 games behind Laredo in the wild-card race with 10 games remaining in the regular season. (Joplin is 2 games back.) Laredo comes to Kansas City for four games beginning Monday.

The T-Bones (47-42) and Saints (65-25) are scheduled to continue their four-game series Friday night at 7:05. Tickets are available by calling the Providence Medical Center Box Office at CommunityAmerica Ballpark at 913-328-5618.