News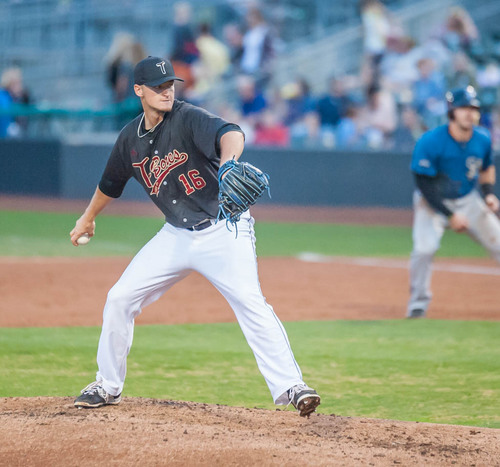 08/29/2015 8:58 PM
-
KANSAS CITY, Kan. – For the second straight night, Kansas City's offense struggled against a top-quality St. Paul pitcher, as the T-Bones fell to the Saints, 3-1, in front of 7,014 Saturday night at CommunityAmerica Ballpark.
After getting only one run and five hits against (now) 14-game winner Kramer Sneed on Friday night, the T-Bones duplicated those numbers Saturday night against Jeff Shields (13-2).
The Saints gave Shields an early lead with which to work. In the second inning, St. Paul jumped to an early 1-0 lead on the T-Bones. With Ryan Lashley on third after reaching base on a double and then advancing to third on a Nate Hanson single, Joey Paciorek grounded into a double play that scored Lashley from third and gave the Saints their first run of the game.
The T-Bones tied the game in the third. Robby Kuzdale, who began the inning with an infield single, stole second and then advanced to third on a sacrifice bunt by Sergio Leon. The next batter, Starlin Rodriguez, grounded out to shortstop Anthony Phillips and scored Kuzdale, knotting the game at 1-1. Kuzdale was one of two players, along with Vladimir Frias, with two hits for Kansas City. The T-Bones other hit came from Leon. The first five batters in Kansas City's lineup went a combined zero-for-18.
The Saints broke the tie in the sixth, when Ian Gac launched a two-out home run to left against T-Bones starter Drew Gay. It was Gac's 10th homer of the season, and a league-leading 94th for the Saints.
St. Paul took a 3-1 lead in the seventh, when Alonzo Harris singled to center field, driving in Nate Hanson from third.
Gay (2-4) had a solid start for Kansas City, giving up three runs (two earned) on seven hits, and striking out five in 6 2/3 innings.
The T-Bones (47-44) and Saints (67-25) are scheduled to finish their four-game series Sunday afternoon at 1:05. Tickets are available by calling the Providence Medical Center Box Office at CommunityAmerica Ballpark at 913-328-5618.