News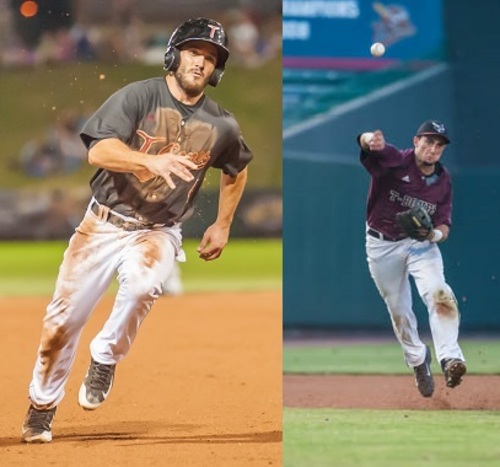 12/16/2015 12:19 PM
-
KANSAS CITY, Kan. – The Kansas City T-Bones have solidified half of the proverbial "strength up the middle" by re-signing outfielder Robby Kuzdale and infielder Sergio Leon to contracts for the 2016 season.

Kuzdale, 28 (11-07-87), a 5-foot-9 and 179-pound center fielder from Tampa, Fla., is returning for his third season with the T-Bones. He played in 86 games for Kansas City in 2015, batting .236 with a career-high 10 home runs, along with 42 RBIs and 14 stolen bases. Kuzdale (pronounced Kooz-dale) had six assists and committed only one error in 196 chances in center field, finishing the season with a .995 fielding percentage. In two seasons with the T-Bones, Kuzdale has 164 hits with 25 doubles, five triples, 17 homers, 81 RBIs and 30 stolen bases.

"Kooz has become one of the best defensive center fielders in the league," said T-Bones manager John Massarelli. "Offensively, he's versatile enough that he can lead off or give us power in the middle of the lineup."

Leon, 22 (03-29-93), is a 5-foot-10 and 175-pound middle infielder from Miami. In 35 games for Kansas City during 2015, his first professional season, he batted .229 with 24 hits, eight RBIs and 11 runs scored. Leon (pronounced Lay-on), who made a play that was featured on ESPN's SportsCenter in August, played mainly at second base, with 13 games at shortstop. He originally signed with the T-Bones on July 29, about two months after finishing his collegiate career at Marshall University.

"Leon is an exciting young player who made some outstanding defensive plays for us last season," Massarelli said. "I look forward to seeing him continue to improve."

The T-Bones open the 2016 regular season at home on May 19 against Texas.