News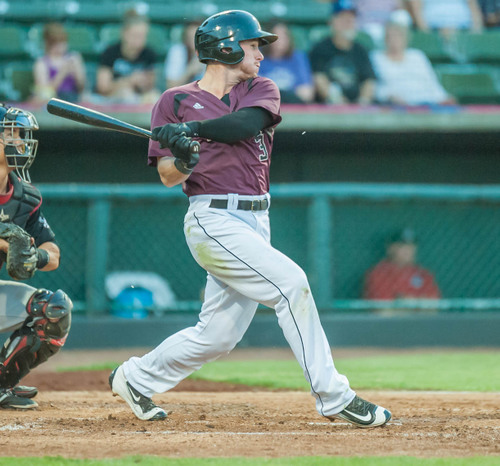 06/06/2016 11:16 PM
-
KANSAS CITY, Kan. — A triple in the top of the 14th by Richard Prigatano completed a 7-5 comeback win for Wichita over Kansas City on Monday night at CommunityAmerica Ballpark.
Kansas City held a 5-1 lead in the top of the ninth with Aaron Baker on the mound. With one out, Brent Dean reached on a two-base throwing error by Baker. Leo Vargas then homered, cutting Kansas City's lead to 5-3. Three batters and one out later, Brent Clevlen launched a two-run home run to center that tied the game.
After neither team scored for the next four-plus innings, former T-Bones player T.J. Mittelstaedt led off the 14th with a double to right center off Kansas City pitcher Jeremy Strawn (0-3). Following a base hit by Dustin Geiger, Prigatano roped a two-run triple that gave Wichita its first lead since the first inning.
Despite Wichita pitchers allowing 11 walks, Kansas City stranded a total of 17 runners.
A two-run second inning allowed Kansas City to take a lead that they would not relinquish until Wichita tied the game in the top of the ninth. Trailing 1-0, Robby Kuzdale tied the game with a two-out single that scored Anthony Gallas, who led off the inning with a base hit. Wichita pitcher Eddie Medina walked the bases loaded before walking in Brandon Tierney and giving Kansas City a 2-1 lead.
Kansas City added to its lead in the fifth inning with a bases loaded sacrifice fly by Jake Blackwood, scoring Vladimir Frias. The T-Bones added to their lead in the bottom of the eighth with two more runs.
After giving up two hits and a run in the first, T-Bones starting pitcher Sean Furney retired 10-straight batters over the next three innings before walking Harrison Kain in the top of the fifth.
The T-Bones will continue to host the Wichita Wingnuts on Tuesday night at 7:05. Tickets are available by calling the Providence Medical Center Box Office at CommunityAmerica Ballpark at 913-328-5618.