News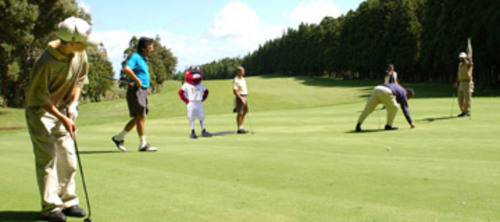 05/11/2005 5:44 PM
- KANSAS CITY – T-Bones fans who are also fans of the PGA Tour got a nice surprise last Sunday while watching the Wachovia Championship on CBS: a preview of CommunityAmerica Ballpark and shots of some of their favorite players.
The ballpark and team were featured in the commercial, taped in late April as part of the Ping Golf "Drive Across America" ad campaign. The premise of the campaign is simple: how anyone, in any walk of life, can use Ping G2 irons (and a little instruction) to hit a solid shot. T-Bones Jonathan Krysa, Rick Prieto, Ryan Hader and Ray Brown were present at the filming, as was manager "Dirty" Al Gallagher; Krysa and Prieto were both featured in the commercial, with Prieto showing his athletic ability as he laid out for a couple of iron shots.
"CommunityAmerica Ballpark is a beautiful venue," said T-Bones general manager Rick Muntean. "This provided a great opportunity for us to get national exposure and have a little fun at the same time."
While not currently available on the Ping Golf web site (www.pinggolf.com), the commercial should be posted to the Ping site in coming weeks. Fans hoping to catch a shot of the T-Bones can try to by watching this weekend's tournament, the EDS Byron Nelson Championship, airing both on USA Network and CBS.
***
The T-Bones continue their exhibition season Saturday at noon at Haymarket Park in Lincoln, Neb., then return to CommunityAmerica Ballpark for a 1:05 game Sunday. Tickets are still available by calling (913)328-BALL (2255)! As well, it's only nine days to the opening of T-Bones season – be sure to call today for your tickets or visit www.tbonesbaseball.com!
– Kansas City T-Bones –