News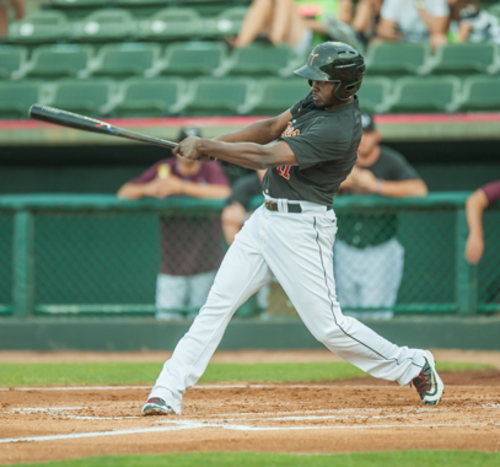 08/20/2016 8:02 PM
-
KANSAS CITY, Kan. – After Friday's game was suspended due to rain, the Kansas City T-Bones went on to fall to the Texas AirHogs, 6-3, Saturday afternoon at CommunityAmerica Ballpark.
With 4,225 in attendance, Friday's game was suspended in the middle of the fourth inning with Texas leading 3-2.
When play resumed Saturday in the bottom of the fourth, Kansas City promptly tied the game. Texas reliever Tyler Ihrig (2-3) walked the lead-off batter Jake Blackwood. Three batters later, with two outs, Dalton Wheat singled and Vladimir Frias followed with a base hit that knocked in Blackwood. Frias accounted for all three Kansas City runs, hitting a two-run home run in the second inning — Friday night — that brought the T-Bones to within 3-2.
Texas took the lead for good in the top of the eighth Saturday afternoon as reliever Johnny Shuttlesworth allowed singles by Michael Hur and Devon Rodriguez, and walked Nick Akins, loading the bases. With one out, Evan DeLuca relieved Shuttlesworth (3-6) and allowed a single to left that scored Hur. Another single by Michael Miller scored Rodriguez. DeLuca walked Kenny Peoples-Walls, which brought in another run, giving the AirHogs a 6-3 lead.
The AirHogs took a 3-0 lead in the top of the second Friday night against starter Mike Kickham. An error by Frias allowed the lead-off batter, Akins, to reach first. Cory Morales followed with a single and Michael Miller was hit by a pitch by Kickham, loading the bases. With one out, Juan Sanchez singled to left, scoring both Akins and Morales. Leon Byrd advanced to first on a fielder's choice, but Frias made a bad throw to first, his second error of the inning, which allowed Miller to score.
The T-Bones (38-46) and the AirHogs (29-55) continued their series with a seven-inning game at 7:30 Saturday night.